Motherwell 'toxic land homes' in new legal claim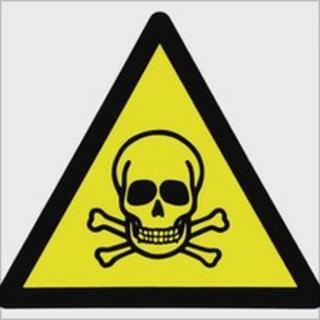 Lawyers acting for people who fear their homes were built on contaminated land have claimed toxic material on the Motherwell site is beyond safe levels.
Collins Solicitors said its own probe had found the presence of potentially harmful chemicals which "far exceed stipulated safe levels".
North Lanarkshire Council accused the firm of "scaremongering".
The Watling Street estate at the centre of the issue was previously occupied by factories and industrial plants.
Since the new housing estate was built in the 1990s some local people have blamed their illnesses on possible contaminated land.
Last year, the council said it had found traces of trichloroethylene, or TCE, - a potentially harmful chemical - in open ground close to homes in Forum Place, Romulus Court, Empire Way and Tiber Avenue.
'Accepted methodology'
In a letter to residents, the authority said the levels found presented "no immediate risk" to householders.
Now Collins Solicitors has claimed that the chemical levels present are beyond safe levels.
Following its own investigation, the firm said TCE had been found in "soil in the open ground adjacent to the residential properties at Forum Place and Romulus Court with a maximum concentration of 85mg/kg being recorded".
It concluded: "Using accepted methodology, preliminary indications are that if similar concentrations were to be found beneath the residential properties themselves this concentration would be between 50 and 770 times higher than accepted risk levels."
The study also said: "Analysis of air samples taken from 20 properties in and around Forum Place revealed a significant number of chlorinated compounds and petroleum products (in particular Toluene) in the indoor air in the properties.
"Indications are that a significant number of local residents have symptoms consistent with the effects of the above compounds."
'Inflame' fears
Des Collins, from Collins Solicitors, said: "We are rapidly reaching a point where North Lanarkshire Council will have to admit that a number of the houses on Forum Place and Tiber Avenue in Motherwell were insufficiently remediated prior to these homes being built, and that they are not currently fit for purpose.
"The responsibility for ensuring that stipulations in planning permission are carried out by developers sits squarely with the council. Their report will make interesting reading when it is published."
In a strongly-worded statement, the council accused Collins Solicitors of trying to "inflame the very real fears of residents on the estate".
It said: "It is simply bad science to infer that the presence of toluene or other 'chlorinated compounds' in air samples are in any way linked to any alleged health conditions and we note that Collins choose not to present their 'evidence' for these claims or the methodology used.
"Collins have chosen once again to indulge in this kind of inflammatory behaviour by press release - sadly, it is the kind of irresponsibility we have come to expect.
"Rather than deal with scaremongering we prefer to act in a responsible manner by dealing directly with residents and we will continue to do so."
The council said that when it had the results of its own further testing, officers would "inform residents first and then make those findings publicly available".