Zoe Nelson murder accused 'took sister to see body'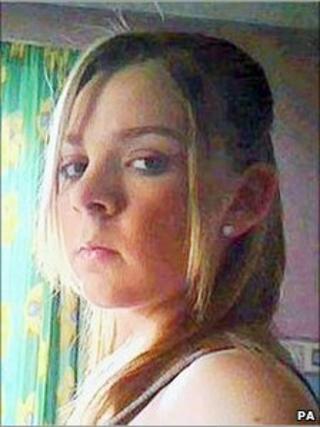 The sister of a teenager whose burned body was found in woods in Lanarkshire has told a murder trial the accused took her to see the dead body.
Laura Anne Nelson, 17, said she met Robert Bayne who told her he had "something to show her".
Miss Nelson told the High Court in Edinburgh he took her to an area, known locally as Monkey Hill, where he pointed out Zoe Nelson's body.
Robert Bayne, 21, denies murdering Zoe Nelson in May last year.
Laura Anne Nelson, who gave evidence behind a screen, said she knew the body was that of her sister because of a Rangers tattoo.
The trial has already heard that the last time Miss Nelson saw her sister Zoe, the pair had fought because both were involved with Robert Bayne.
Miss Nelson said she had gone to Mr Bayne's grandmother's house in Cambusnethan, Wishaw, the day after Zoe disappeared, to return some clothes.
She described the accused as appearing "jumpy" and said he had dried dirt on his hands and face and was drinking vodka.
The witness told advocate depute Lesley Shand QC that when the pair left the house together, Mr Bayne had said he had "something to show her".
Miss Nelson added: "He took me to show me where Zoe was."
'Telling lies'
She said that among the grass and trees she saw Zoe's blackened body.
"He pointed it out," she told the trial.
The jury also heard how Miss Nelson claimed in a statement to police that Robert Bayne had threatened that she would get "the same as Zoe" if she revealed what he had done.
Zoe Nelson's body was found later that day by a man riding a bike in the area.
Laura Anne Nelson told defence agent Neil Murray QC that she could not explain why she had not told police immediately about the incident.
She denied his suggestion that she was "telling lies" about being taken to her sister's body.
Mr Murray asked her if she had been frightened when she spoke to police about her sister's death.
"A wee bit", she answered, adding that she had been threatened by Mr Bayne.
Mr Bayne is accused of attacking Zoe Nelson with a knife at Monkey Hill, near Branchalfield Drive, Cambusnethan, putting a plastic sheet over her head to restrict her breathing and then setting fire to her on 22 May 2010.
He also denies an earlier attack on her by punching her on the head and scratching her and, on another occasion, committing a breach of the peace by threatening her.
It is also claimed that after the murder, he tried to cover up his alleged crime by setting fire to Ms Nelson's body, washing his clothes, dumping her mobile phone and telling police that someone else was responsible.
The trial before judge Lady Dorrian continues.