Robert Burns Highland Mary muse theory disputed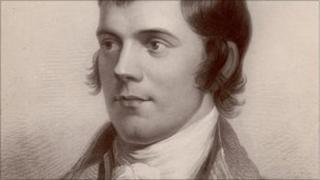 Researchers believe that Robert Burns' relationship with Highland Mary, the woman described as his muse, was dramatically exaggerated.
Academics at Glasgow University said the myth was largely constructed to lend cultural significance to the poet himself.
Highland Mary, whose real name was Mary Campbell, died in 1786 only a few weeks after meeting Burns.
The Bard went on to publish works dedicated to her.
The Highland Lassie, O, Highland Mary and To Mary in Heaven are all thought to have been inspired by her.
The songs have been interpreted as revealing Burns' intention to start a new life with Mary in Jamaica after abandoning his wife Jean Armour weeks earlier.
Professor Murray Pittock, director of the Robert Burns - Beyond Text project, said the legend of Mary was largely constructed by Burns' subsequent biographers from objects such as statues and snuff boxes - rather than written documentation.
He said such objects dictated the social and cultural legend of Highland Mary throughout the 19th Century and afterwards.
'One of the lads'
He said: "In the 20th Century, Highland Mary is still thought about as important to Burns and is often depicted in a heightened and unrealistic way.
"The truth is, his relationship with her probably only lasted a couple of weeks."
The project, being carried out in collaboration with Dundee University, considers Burns' life through memorabilia, dating back to 1842.
Many of the items stress the poet's penchant for drinking or woman, to an "unusual degree for the 19th Century", said the academics.
Dr Pauline Mackay, said: "While Burns' biographies often mark regret for his heavy drinking, the souvenirs positively celebrate it.
"For instance, we examined the tankards, whisky jugs and snuff boxes, objects which would typically have been considered masculine objects in their original 19th Century context, and found that Burns was indeed celebrated as an icon of convivial male friendship and masculine sexuality."
Dr Mackay said statues and other objects had played a significant part in the commemoration of Robert Burns.
She added: "And from what we see of the typically masculine objects, you could say they reflect the fact that Burns himself was 'one of the lads' insofar as he enjoyed spending time with male companions."