Murder trial hears of DNA match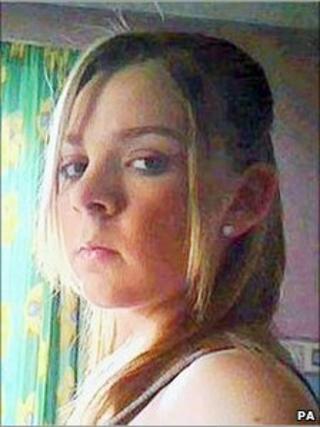 A murder trial has heard that traces of DNA found on the remains of Zoe Nelson matched samples taken from the man accused of her murder.
Forensic scientists told the High Court in Edinburgh that Zoe's corpse could have been burning away for up to seven hours.
The body of 17-year-old Zoe was found in woods on 22 May last year.
Robert Bayne, 21, denies murdering the Motherwell College student and setting fire to her body.
Laura Wilcock, an expert in examining suspicious fires, said that little of Zoe's body remained untouched.
Her colleague, Marie Campbell, said it had been possible to swab Zoe's right hand and analyse material from the palm and between the fingers in a police laboratory.
By this time, mouth swabs had been taken from Robert Bayne, who denies murdering the student and setting fire to her her body.
Ms Campbell said although most of the DNA from Zoe's swab belonged to the teenager, there were traces from another person there.
The court heard these matched parts of Bayne's DNA profile.
'Scientific findings'
Ms Campbell said: "The scientific findings would support the conclusion that DNA from Robert Bayne had been deposited between the fingers and on the right palm of Zoe Nelson."
The court also heard that a tequila bottle - a brand with a distinctive red sombrero cap - was found 15ft away from Zoe's body.
Ms Campbell said DNA matching Zoe and Bayne was found on both bottle and lid.
She added that the odds against the DNA coming from anyone but Zoe were more than a billion to one.
And the probability of finding a match for the DNA on the mouth of the bottle, if it wasn't from Bayne, was one in 61,000.
The odds against the DNA in the red, plastic sombrero lid coming from anyone but Bayne were 9.6 million to one.
Ms Campbell suggested the explanation for the findings was that both had been drinking from the bottle, then put the cap back on.
She also described a finding of mixed blood and fat on the bottle - which matched Zoe's DNA.
She said: "Generally speaking, in our opinion, this is normally the result of a wounding injury causing bleeding and body fat to become mixed."
She told the court that she had found similar results on knives examined after stabbings.
But, she added, the stains on the tequila bottle did not have the distinctive pattern she would have expected if the bottle had been used as a weapon.
Bayne denies attacking Zoe with a knife at the spot known locally as Monkey Hill, putting a plastic sheet over her head to restrict her breathing and then setting fire to on 22 May 2010.
Bayne also denies an earlier attack on Zoe, by punching her on the head and scratching her and, on another occasion, committing a breach of the peace by threatening her.
It is also claimed that after the murder he tried to cover up his alleged crime by setting fire to Zoe's body, washing his clothes, dumping her mobile phone and telling police that someone else was responsible.
A charge of attempting to defeat the ends of justice also alleges that Bayne told Zoe's sister, Laura Anne Nelson, 16, where Zoe's body lay, but threatened to kill her if she reported what she had seen.
Bayne denies all the charges against him, including an alleged assault on a detective and repeatedly stealing booze from an Asda store in Morningside Road, Newmains, on the day Zoe is said to have died.
The trial before judge Lady Dorrian continues next week.