Clydebank marks blitz 70 years on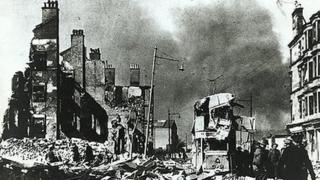 Those who died in the Clydebank blitz are being remembered during a series of events to commemorate the 70th anniversary of the World War II attack.
Hundreds of Luftwaffe bombers targeted local shipyards and munitions factories on 13 and 14 March 1941.
When the blitz was over, 528 people were dead and the town lay in ruins.
A special memorial service, attended by international figures, was held in Kilbowie St Andrew's Church, Clydebank, at 1400 GMT on Sunday.
Consul General of Germany, Wolgang Moessinger, and Polish Consul General, Dr Tomasz Trafas, joined survivors and invited guests at the service.
West Dunbartonshire Council Provost, Denis Agnew, said: "On this 70th anniversary, we remember not only the hundreds of residents who lost their lives but also the surviving residents whose lives changed forever.
"This memorial service is an important and fitting tribute to all residents of Clydebank and that the survivors of the blitz are remembered for their resilience after the attack and their determination to rebuild their town."
A remembrance service was also be held on Saturday at the Blitz Memorial in Old Dalnottar Cemetery.
The monument carries bronze castings with the names of those who lost their lives during the attack.
It also notes that 22 unidentified victims are buried at the cemetery.
The attacks saw the area suffer the worst destruction and civilian loss of life in all of Scotland.
Some 617 people were seriously injured and only seven homes in the town remained undamaged.
Out of about 12,000 homes, 4,000 were completely destroyed, 4,500 severely damaged and about 48,000 people left homeless.
A minute silence to remember those who died will also be held at Clydebank Shopping Centre at 1200 GMT on Monday.
Centre manager Andrew Forrester said: "The memories of the blitz are still strong in Clydebank and the surrounding areas and it is appropriate that it is remembered at such a significant time.
"All retailers and shoppers will be asked to respect the minute silence."
It is expected that about 1,500 staff and customers will take part in the silence.