Zoe Nelson murder trial hears of tattooed man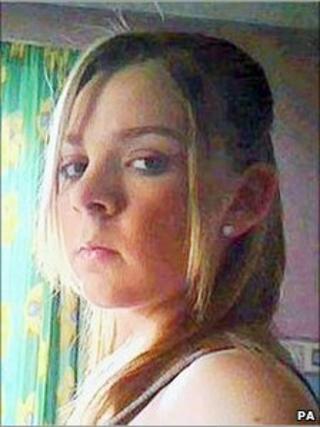 A murder trial has heard how a sunburned man with a tattooed face was seen "wandering aimlessly" on the night a 17-year-old girl was set on fire.
Witnesses told the High Court in Edinburgh the topless stranger was alone and unsteady on his feet as if he had been drinking.
The evidence was heard in the case of Zoe Nelson, whose charred body was found in woods on 22 May last year.
Robert Bayne, 21, denies murdering the teenager and setting fire to her body.
The sunburned man attracted the attention of a family who had gathered to watch the Champions' League football final, the court heard.
They watched from the window of a house in a quiet cul-de-sac on the edge of Cambusnethan, Wishaw in North Lanarkshire on the day Zoe Nelson is thought to have died.
Earlier that day murder-accused Robert Bayne had been seen outside a Scot-Mid store in nearby Newmains where a girl was rubbing sun tan lotion into his sunburn.
"She didn't look too happy", said Robert McKie, 46, who was heading for the shop to buy his weekly lottery ticket. "I thought it was a boyfriend-girlfriend thing."
He told the court: "They must have got something in the shop, sun tan lotion, because as they were walking away the girl was rubbing something onto his shoulders."
Mr McKie agreed with defence QC Neil Murray that the man he saw in Manse Road, Newmains - and identified in court as Mr Bayne - was "red as a lobster".
Louise McLean, 21, said she was driving home when she saw a man beside a row of conifers.
"He was just wandering up the street ... just wandering aimlessly," she told advocate depute Lesley Shand QC, prosecuting.
She said the man was topless and had a "tribal design" tattoo on the right side of his face.
A while later, Ms McLean said she saw the man again, through a window of her home.
It was just into the second half of the football match, she said.
William Jamieson, 63, who was also watching the match, told the trial: "What attracted attention was his hairstyle and his back was very, very red from the sun."
Mobile phone
He added: "We don't have hardly anyone down that street unless they are walking a dog."
A number of witnesses have described seeing Mr Bayne and Zoe Nelson together at various times on 22 May.
The burned body of Zoe Nelson, who was studying panel beating at Motherwell College, was found the following day in woodland known locally as Monkey Hill near Branchalfield Drive, Cambusnethan, Wishaw.
Mr Bayne denies attacking her with a knife, putting a plastic sheet over her head to restrict her breathing and then setting fire to her.
He also denies an earlier attack on the teenager by punching her on the head and scratching her and, on another occasion, committing a breach of the peace by threatening her.
It is also claimed that after the murder, he tried to cover up the crime by setting fire to Zoe's body, washing his clothes, dumping her mobile phone and telling police that someone else was responsible.
A charge of attempting to defeat the ends of justice also alleges that he told Laura Anne Nelson where Zoe's body lay, but threatened to kill her if she reported what she had seen.
Mr Bayne denies all the charges against him, including an alleged assault on a detective and repeatedly stealing alcohol from an Asda store in Morningside Road, Newmains, on the day Zoe is said to have died.
The trial before judge Lady Dorrian continues.