Troubled Skykon turbine plant attracts energy firm bid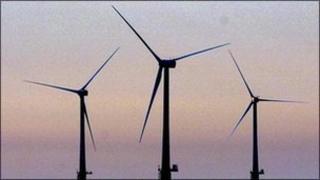 One of Scotland's largest energy firms has entered a partnership to buy a closure-threatened Argyll-based factory which makes towers for windfarms.
Scottish and Southern Energy and Marsh Wind Technology have secured "preferred bidder" status from administrators who are running the plant at Machrihanish.
The future of the Campbeltown operation has been in doubt since Danish parent company, Skykon, filed for bankruptcy.
A deal to secure a takeover could be secured within weeks.
Skykon took over the operation in Spring 2009 after the previous owners - another Danish company Vestas - decided to close it.
Plant reprieve
The plant was placed in administration earlier this year, however, after Skykon went bust.
Administrators Ernst and Young then agreed a deal with engineering firm Siemens to resume production.
The firm agreed to provide funding for an outstanding order of 30 wind turbine towers and pay wage arrears for the workforce.
Over the past several weeks, administrators have been working through expressions of interest in the site.
It has now been confirmed that a joint venture from Scottish and Southern Energy (SSE) and Marsh Wind Technology has been given preferred bidder status.
Commenting on the development during a visit to the plant, First Minister Alex Salmond said: "The creation of the joint venture and securing of preferred bidder status are very welcome developments for Campbeltown.
"It underlines the industry's confidence in the skills of the workforce and the important role this plant can play within the renewables industry supply chain."
The plant, which is on the site of the former RAF Machrihanish base, is an important part of the area's economy and one of its biggest private sector employers.
Ian Marchant, chief executive of SSE, said he hoped it would continue to play a significant role in the area's economy.
'Redeployment opportunities'
"As the market for offshore wind turbines develops from 2013 onwards it should be possible to expand the operation to fully utilise the excellent facilities which are now available at the site," he said.
"While some restructuring may be necessary at the plant to position it for growth we would envisage the substantial majority of the workforce being retained, while the joint venture partners would also be looking at potential redeployment opportunities."
William Marsh, from Marsh Wind Technology, added: "Both partners believe that this plant has an important role in building the supply chain base for the growing wind energy sector and that it will have a healthy future in the medium term as the demand for turbine components expands.
"It is our aim to build the Campbeltown operation into a stable and reliable partner to our customers with a singular focus on creating value in the supply chain."