Inquiry told rally star McRae flew helicopter illegally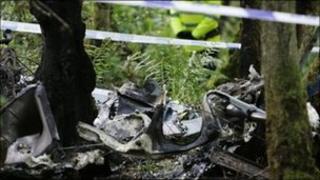 Rally driver Colin McRae should not have been flying the helicopter in which he and three passengers died, a fatal accident inquiry has been told.
The Civil Aviation Authority's Raymond Elgy told the hearing that Mr McRae was neither licensed nor qualified to fly the Squirrel helicopter.
The 39-year-old crashed in woodland near Lanark in September 2007.
He died along with his son Johnny, five, Ben Porcelli, six, and family friend Graeme Duncan, 37.
The group had been returning to the landing strip at the McRae family's home in Lanark after a short trip to a friend's farm.
An Air Accidents Investigation Branch (AAIB) report issued in February 2009 stated that Mr McRae's five-year flying licence had expired in February 2005.
He was also not authorised to fly the helicopter he was operating because his "valid type rating" had lapsed in March 2007.
The fatal accident inquiry, at Lanark Sheriff Court, is ongoing.