Former MP Sarwar's son cleared of £850,000 fraud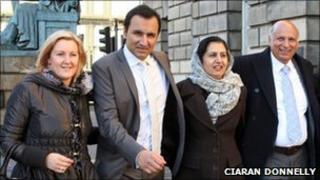 The son of Scotland's first Muslim MP has had a his conviction for a £850,000 money laundering scam overturned by appeal judges.
Athif Sarwar, 32, was jailed for three years after being found guilty of using the family's cash and carry business to conceal the proceeds of VAT frauds.
Appeal judges agreed there was a lack of evidence to link him to the crime.
His father, former Labour MP Mohammed Sarwar, said his son had been the victim of "institutionalised racism".
During his trial, the Crown said Athif Sarwar, then managing director of United Wholesale warehouse in Glasgow, had used the business to launder the money in return for a 10% cut.
'Perverse' verdicts
Since the guilty verdict in May 2007, Mr Sarwar, from Mearnskirk, East Renfrewshire, continued to protest his innocence.
Just two weeks after he was sentenced he was freed to await the outcome of his appeal.
Mr Sarwar claimed he suffered a miscarriage of justice because there was not enough evidence to link him to the scam, which was said to be going on between February and April 2003.
He also claimed the jury verdicts were perverse because another man, Mansoor Khan, then 43, of Giffnock, Glasgow, who was assistant manager at Sarwar's United Wholesale warehouse, was cleared.
After appeal judges overturned his son's conviction, former MP Mohammed Sarwar hit out at the authorities who brought the case.
Leaving court with his son, Mr Sarwar said: "I believe institutionalised racism has played a part. My family and myself have suffered for the last eight years and this was a living hell for my family.
The former MP called for an inquiry into the 2003 investigation by HM Revenue and Customs (HMRC) which eventually led to his son standing trial at the High Court in Glasgow.
"I believe the Crown got it wrong, HMRC got it wrong and - I am saying this with a heavy heart - that Lord Carloway, the trial judge, got it wrong."
But, he added: "We are proud of Scottish justice, where justice can prevail, and the calibre of the appeal judges really impressed me."