Royal Navy HMS Gannet 'busiest rescue base in UK'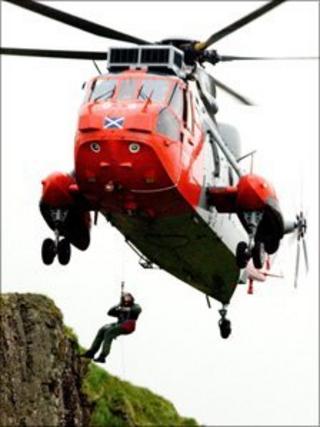 The Royal Navy's search and rescue unit in Prestwick was the busiest in the UK last year, official figures have shown.
HMS Gannet attended 379 call outs in 2010 - 19% of the 1,988 sorties flown from the UK's eight military units.
The Royal Navy said that 324 people had been given assistance by crews from the Ayrshire base.
The current operation provides 24-hour military and civilian search and rescue across a large area of Scotland, northern England and Northern Ireland.
HMS Gannet's commanding officer, Lieutenant Commander Debdash Bhattacharya, said: "Once again these high figures reflect the nature of the vast and sometimes harsh area covered by this unit.
"Our area of operations encompasses both Scotland and England's highest peaks, Northern Ireland and the Inner Hebridean islands as well as the sea areas, which can be some of the UK's most treacherous stretches of water.
"I am incredibly proud of the men and women who make up not only our aircrew, but also the ground staff - military and civilian - who tirelessly work so that we are ready to fly at a moment's notice in order to save lives."
Privatisation review
The future of HMS Gannet, however, still remains uncertain.
In February last year, the Ministry of Defence decided to move search and rescue services from Prestwick to Glasgow Airport.
It followed a decision by then UK ministers to transfer Britain's search and rescue services to a private consortium.
This move was later put on hold after the general election, when the coalition government announced a review of the deal signed off by the Labour government.
It is understood that the review is still ongoing.