North Ayrshire four-day school week 'not practical'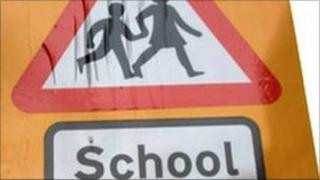 A Scottish council leader has said proposals for a four-day week at primary and secondary schools were thought up as a "worst case scenario".
North Ayrshire Council confirmed on Sunday that it may examine the move to cope with planned funding cuts.
But council leader David O'Neill said the idea was among a range put forward for consideration by council officers but not supported by councillors.
A long-term plan for children to start school at six had greater backing.
Mr O'Neill said the council would be more likely to make efficiencies by raising the starting age to six, increasing class sizes or cutting the number of school buildings.
"What officers were asked to do was to look at worst possible scenarios and come back with options for that," he told BBC Radio Scotland's Good Morning Scotland programme.
"The idea of moving to four-day week was put in as a worst case scenario. In actual fact we're trying to protect education spending so the idea of a four-day week is something that will not fly."
Budget cut
He added: "No elected member at the seminar where we talked about it thought it was a good idea.
"Parents by and large work round about the school week ... and it really wouldn't be practical to move away from that."
The council last week approved a 2011-12 budget which included cuts of £8.9m. The local authority aims to bridge a £38m funding gap by 2014.
Cutting the school week to four days could save the Labour-led council £2m each year.
However, in order for a four-day week to be implemented, there would have to be changes to the law, which states that children have to attend school 190 days a year.
Cutting the school week was one of a wide range of early options which may be considered by North Ayrshire Council over the coming years, including changing the starting age to six.
Mr O'Neil said: "I think if we could extend the amount of time that children spend at nursery that would be of interest. I know that educationalists tell us that here in Scotland and the UK we have the earliest start at five years of age."
He added: "This isn't something that's going to happen next week, next month or next year.
"There would need to be changes in legislation and the way monies are allocated so that you could ensure that the nurseries were delivering that additional year, so it is long-term scenario planning."