Statue honours former Labour leader John Smith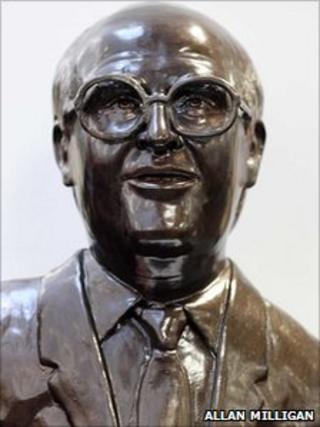 A statue of the former Labour leader John Smith has been unveiled in North Lanarkshire.
The work, by the Scottish artist George Mark, is on displayed in Coatbridge Public Library.
Mr Smith was elected as an MP for Lanarkshire North in 1970, and was leader of the Labour Party from 1992 until his death in 1994, aged 55.
Scottish Labour leader Iain Gray, who unveiled the statue, said it was a fitting tribute.
"It is an honour and privilege to unveil this tribute to John Smith, a man widely admired and much loved by his constituents in North Lanarkshire and far beyond," he said.
"John was an unforgettable force in British politics and this statue will stand here for years to come in recognition of his achievements.
"He was a man of integrity and was deprived of the opportunity to become prime minister by his untimely death.
"But he is still held with great affection across Scotland, but especially in Airdrie and Coatbridge."