Parkinson's drug in gambling addiction legal claim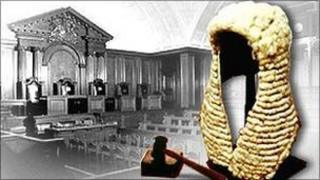 A man who claims to have developed a gambling addiction after taking part in a drug trial is suing a doctor and Scotland's largest health board.
Morton Wylie, from Cumbernauld, North Lanarkshire, said he lost £85,000 after taking Rotigotine, which was used to treat symptoms of Parkinson's Disease.
He is now seeking £100,000 damages in an action at the Court of Session in Edinburgh.
NHS Greater Glasgow and Clyde and Dr Donald Grosset are contesting the case.
Mr Wylie attended his family doctor in 2002 after developing a tremor in both arms and hands.
He was later seen by Dr Grosset, a consultant neurologist who diagnosed him as suffering from Parkinson's Disease.
Clinical trial
A clinical trial of Rotigotine patch medication was ongoing between 2002 and 2005.
Among the European centres taking part was the Southern General Hospital in Glasgow with Dr Grosset the principal investigator.
The sponsor of the trial was pharmaceutical firm subsidiary, Schwarz Biosciences.
Mr Wylie attended at the Southern General in June 2002 for assessment of his suitability to participate in the trial.
The doctor also explained the purpose and nature of it and he later started treatment.
Mr Wylie was told about possible physical side effects but the potential for developing addictive behaviour was not discussed.
The doctor and health board said the side effects discussed with him, and identified in a patient information sheet, were those known at the time.
An American study was later published reporting a link between compulsive behaviour and treatment with low doses of dopamine agonist drugs.
Dopamine is associated with both movement control and pleasure systems of the brain.
Mr Wylie said in the court action that during 2003 he developed an uncontrollable urge to gamble.
He claims that he had never gambled to any significant extent before taking the drug.
Any involvement, he said, was limited to occasionally filling out a football coupon or buying a ticket for the National Lottery.
Gambling claim
He claims, however, that as a result of his addiction he spent his savings and then borrowed money to finance his gambling.
The health board maintains his gambling history was not known. In the action it does not admit it became worse.
Mr Wylie was sent a letter in 2005 with an addition to the patient information sheet stating that: "A few patients have reported compulsive disorders (gambling, repetitive behaviour) or increased sex drive, however, these reports have been few and far between.
"Current available information suggests that the majority of these events resolve on discontinuation or dose reduction, and are considered non-serious."
Mr Wylie's wife later made a phone call over his gambling and in October 2005 he was advised to stop treatment with Rotigotine.
Mr Wylie claims that there was a unilateral obligation or an agreement that he would be compensated for loss suffered through taking part in the drug trial.
Both the doctor and the health board maintain that they did not undertake to compensate him through the terms of the patient information sheet or otherwise.
Under the Association of British Pharmaceutical Industry guidelines it is proposed that the sponsor should pay compensation to patient volunteers who suffer "bodily injury" in clinical trials.
Counsel for the health board, Patricia Comiskey, told judge Morag Wise QC during a procedural hearing in the action that under the guidelines there was no recourse to either the board or doctor for payment of any damages.