Wards closed at Southern General after bug outbreak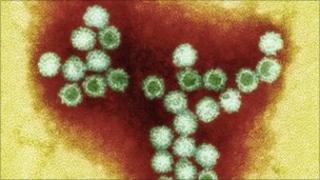 Five wards at a city hospital have been closed to new patients due to an increase in cases of a diarrhoea and vomiting bug.
NHS Greater Glasgow and Clyde said 25 patients and five members of staff were showing symptoms of Norovirus at the Southern General Hospital in Glasgow.
The health board said that none were giving cause for concern.
Four of the wards affected are medical wards and the other is for rehabilitation and assessment.
Dr Sarah Whitehead, lead infection control doctor for the hospital, said: "Norovirus is particularly prevalent during the winter and it's not unusual to see this type of infection in the community and also in healthcare settings.
"We will continue to monitor this situation closely and strict infection control measures are in place.
"To further prevent the spread of infection we are also restricting visiting to the affected wards to essential visits only.
"It is important to remember that this virus is extremely common in the wider community and therefore we are also urging any visitors who have experienced any symptoms of diarrhoea or vomiting within the last 48 hours not to visit the hospital."
She reminded visitors of the importance of hand hygiene when entering and leaving hospital premises.