Child rapist wins Carstairs food ban legal case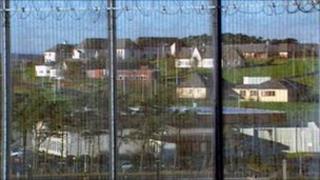 A child rapist has won a legal bid to be allowed fizzy drinks and chocolate in the State Hospital at Carstairs.
Clifford Lyons, 38, has been detained there since 1990 when he raped a 10-year-old girl in Glasgow.
He brought a judicial review at the Court of Session in Edinburgh against the hospital's plan to ban junk food to combat inmate obesity.
Lyons successfully claimed he needed high energy drinks and protein bars for his fitness regime.
Under the proposals, inmates at Carstairs, which houses some of Scotland's most dangerous men, were to be stopped from ordering food and drinks from outside.
The plan was drawn up after it emerged that more than 80% of inmates were either obese or overweight - compared to a UK average of 50% for men.
Food supplements
Lyons said that his regime of weight-lifting, football practice and walking in the hospital grounds would be hampered if he could no longer get Lucozade energy drinks.
He also demanded to be able to continue ordering high-protein bars and food supplements online.
After a court hearing last month, judge Lady Dorrian issued her written decision on Wednesday.
She ruled that patients could continue to order their favourite snacks from outside and that visitors could continue to bring in food parcels - as long as they did not contain alcohol, glass bottles or tin cans.
Chewing gum was also banned in Carstairs because of fears it could be used to make counterfeit keys.
Lady Dorrian noted that a document produced by hospital staff had claimed a majority of patients were in favour of changes in their tuck shop - but this was incorrect.
She said that from what little consultation there had been, patients were "vehemently opposed" to the plan and wanted to continue to receive outside food parcels.
The judge said there was no indication that patients were told exactly what was planned.
She added: "It is highly questionable whether such feedback was obtained or properly put before the board. The summary of the feedback... was incomplete and in some respects incorrect."
Lady Dorrian said the lack of consultation was enough to make a ruling in Lyons's favour.
Carstairs presently houses about 140 men in conditions of tight security.
Courts send patients there who have committed murder, rape and other offences but who have been judged by doctors to be mentally ill and in need of treatment.
Lyons was admitted in 1990 after raping a 10-year-old girl in a field near his then home in Drumchapel, Glasgow.
At the time he was on bail for another sex offence - molesting a 12-year-old boy after luring him into a field and forcing him to strip.