Renfrewshire teachers balloted on 'hours cut'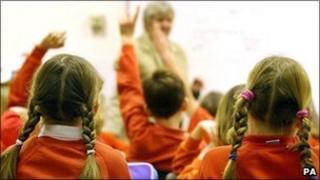 Primary teachers in Renfrewshire are to be balloted about industrial action over plans to cut the teaching week.
Registered teachers currently provide 2.5 hours of cultural, citizenship and sporting activities to pupils.
Renfrewshire Council wants non-teaching staff to take over this role - allowing it to cut 60 full-time primary teaching posts at a saving of £1.12m a year.
The EIS teaching union described the plan as "disgraceful". The council said it would help avoid "damaging cuts".
Details of the proposals were put before the council's education policy board last month.
The report said that the teaching week involved 22.5 hours and a further 2.5 hours during which children "work on a range of cultural, citizenship and sporting learning activities".
Under the new scheme pupils would continue to be taught by teachers registered with the General Teaching Council for Scotland.
'Teachers horrified'
In the remaining 2.5 hours children would work with other council staff on an "enrichment programme" of activities.
EIS general secretary, Ronnie Smith, said: "The proposals in Renfrewshire, which would cut 2.5 hours per week from the primary school teaching week, are disgraceful and would dilute the quality of education that children receive.
"Teachers and parents are, quite rightly, horrified that the council is seeking to move towards a part-time teaching week for primary pupils.
"This really is the thin edge of the wedge and would set a very dangerous precedent where councils put delivering education on the cheap ahead of providing a high-quality learning and teaching experience for all young children."
Councillor Lorraine Cameron, convener of Renfrewshire's education policy board, said a strike would be "unhelpful" and "disrupt children's education".
"Everyone involved in education, including the EIS, needs to face up to the stark financial realities that councils must address," she said.
"Renfrewshire Council has made clear that the changes to the primary school week will save over £1.1m each year. That saving will enable us to avoid damaging cuts to services such as school closures or increases in class sizes.
"I have yet to see from any opponent of our changes any credible alternatives which don't involve damaging cuts."
Cllr Cameron said 60 primary teachers had chosen to take voluntary redundancy as part of the proposals.
This, in turn, would allow the authority to appoint "a similar number of new teachers giving them a career start".
She added: "I am also disappointed by some of the ill-informed comments about the new specialist staff who will be working with pupils. They will be council employees who will be fully trained and capable for their role."