Glasgow sees 'significant fall' in violent youth crime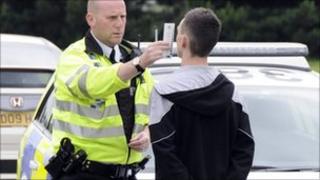 There has been a significant fall in the number of serious violent crimes committed by young people in Glasgow, according to the latest figures.
A report by the city's Youth Justice Services showed the number of attempted murders, serious assaults and robberies carried out by under-18s fell by 22%.
Overall, the number of offences carried out by young people dropped 7% in 2010.
The drop follows the introduction of a series of programmes aimed at preventing young people offending.
It also marks the continuation of a four-year trend, which has seen serious crime in Glasgow fall by nearly a third in three years.
The city council said it had used research from around the world to develop a comprehensive programme which, it said, would address the complex issues often found at the root of offending behaviour.
One scheme has involved the use of electronic tags as an alternative to offenders being remanded, resulting in repeat offending behaviour being stopped.
The local authority said most crimes committed by young people were nuisance offences such as petty assault, consuming alcohol and breach of the peace.
'Create misery'
Councillor Matt Kerr, executive member for social care, insisted there was no sense of complacency when addressing the on-going issue of youth crime, despite the fall in the numbers.
He said: "These figures show that Glasgow is becoming a safer city, both for young people and the wider community."
He added: "By using programmes which have been tried, tested and found to be effective they have helped to make a big difference to a very important issue.
"But this is not a finished project and we will continue to develop new services which will challenge the small minority of young people who commit crime in Glasgow and create misery in their communities."
Sean McKendrick, head of the city's youth justice service, said: "We need to recognise that there is a whole range of offending behaviour that exists - some of it very small, relatively minor, that only requires limited intervention.
"However, there are other younger people who are also involved in offending that causes communities significant concern, and it's these individuals that will receive intensive, intricate care plan supports."
During 2009/10, 1,817 children and young people were referred to the children's reporter for 4,198 offences.
A total of 11,895 were committed by those under the age of 18, compared with 12,786 in 2008/09.