Woman jailed for punching and killing Glasgow man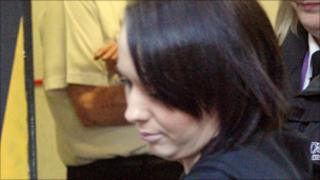 A woman who killed a father-of-two in Glasgow with a single punch has been jailed for six years and nine months.
Kayleigh Murray, 20, from Shettleston, admitted the culpable homicide of 29-year-old Paul Woods in the city's Maryhill Road, on 28 July last year.
She punched Mr Woods after he chased her friend, 19-year-old Chelsea Speirs, who had just stolen his alcohol.
Speirs, from Springboig, was jailed for two years and three months after admitting stealing Mr Woods' alcohol.
Both women were originally charged with murder, but the Crown accepted their pleas to reduced charges.
Bag struggle
At an earlier hearing, the High Court in Glasgow heard how Mr Woods had stopped to buy drink at a local shop as he and a friend walked home from watching Celtic's match against Braga in a Glasgow pub.
As he was waiting outside the shop he was approached by Speirs who, on seeing the bag containing alcohol, said: "What's that you've got there?"
She then attempted to grab the bag and a struggle ensued which ended with Speirs walking off with the bag.
Mr Woods then attempted to go after Speirs, and as he did so Murray walked up to him and punched him on the right cheek.
This caused him to fall backwards and strike the left side of his head off the road.
Mr Woods immediately lost consciousness and did not move again.
The court was told that Speirs handed the bag to either Murray or another friend standing beside her.
Murray said she had knocked Mr Woods out, and she and the other girl walked away and boarded a bus.
Regulars from the nearby Maryhill Tavern tried to help Mr Woods and flagged down a passing police car.
Internal bleeding
Speirs remained at the scene until the police arrived and became upset shouting: "I think he's dead."
The court heard that Mr Woods, who suffered a blood clot on his brain, was operated on at the Southern General Hospital but died on 29 July.
A post-mortem examination revealed that the cause of death was internal bleeding in the brain.
The court heard that Murray has a previous conviction for assault to injury and was on probation when she killed Mr Woods.
Speirs, who has previous convictions for assault and robbery and assault, was also on probation at the time.
Sentencing Murray at the High Court in Edinburgh, judge Lord Pentland said that at the time of the offence she was "heavily intoxicated on a cocktail of Buckfast wine, cider and valium".
But he told her this was no excuse for her actions, adding: "He (Mr Woods) was a young man with a loving partner and two young children. He and they were looking forward to a happy future together.
"No sentence I impose can begin to undo or compensate for the lasting devastation you have brought about for so many innocent people by your drunken violence."
Lord Pentland imposed an extended 10-year sentence on Murray, consisting of a custodial sentence of six years and nine months.
The judge also told her that she would be on licence for a further three years and three months.
'Disturbing record'
Lord Pentland told Speirs that although she was young she had "acquired a disturbing criminal record".
Jailing her for two years and three months, the judge said: "In a highly intoxicated state, you approached Mr Woods as he came out of a shop and attempted to rob him of the alcohol he had just bought. He was a complete stranger to you.
"After struggling with him, you succeeded in robbing him of the drink and made off with it. It is clear that your conduct was entirely unprovoked, violent and persistent. It was aggravated by drink.
"It displayed, in my view, a high degree of unruly and anti-social drunken hooliganism."