Near rail miss at Carstairs blamed on snow and ice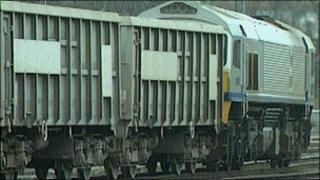 Snow and ice have been blamed for a near miss involving a freight train and two passenger trains in Lanarkshire.
The freight service passed through two red signals and narrowly avoided colliding with two passenger trains near Carstairs in December 2009.
The Rail Accident Investigation Branch (RAIB) said the freight train's braking performance "was very poor".
It found "snow and ice ingress stopping the brake equipment on its wagons from working properly".
The freight service was travelling from Coatbridge to Tilbury docks in Essex when the incident happened at about 2020 GMT on 22 December 2009.
Derailment potential
The freight train passed through Carstairs station and came to a halt about two miles after it had started to brake.
As it approached Carstairs a passenger service from London Kings Cross to Glasgow Central was being routed across the same line at the south end of the station.
The RAIB said it passed clear of the junction less than two minutes before the arrival of the freight train.
It also said that actions by a signaller averted the potential for a derailment or collision between the freight train and a second passenger train approaching Carstairs from the direction of Edinburgh.
In it's final report, the RAIB said that "a combination of factors" had led to the freight train's poor braking performance.
Three recommendations
It blamed "the way that the driver applied the rules for operating trains in snowy conditions; the speed of the train, and as a result the amount of lying snow that it then disturbed; and the train entering into service with snow and ice already on its brake equipment".
As a result, the RAIB has made three recommendations to freight operating companies.
Two of these are in conjunction with the Rail Safety and Standards Board and relate to rule changes for operating trains in snowy conditions.
The third recommendation is made to freight operating companies and calls for a review of the safety impact of operating freight trains in snowy conditions, so that specific risk control measures can be identified and imposed when justified by the conditions.