BMI to 'suspend' Glasgow to Heathrow flights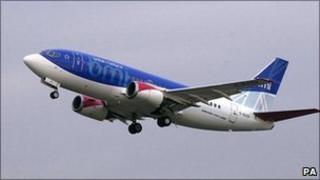 The airline BMI is to suspend daily flights between Glasgow and Heathrow from the end of March.
BMI said forthcoming rises in domestic passenger charges at Heathrow had made the loss-making route "unsustainable".
The airline, which employs 138 staff at Glasgow Airport, said a number of staff were now "at risk of redundancy".
Its decision to suspend the route means that from April, BA will be the only airline to provide flights between Glasgow and London Heathrow.
The company said it had started a 30-day formal consultation process with employees and unions to try to reduce the number of redundancies.
It said it planned to "offer a large number of redeployment options" to those affected.
'Weaker routes'
BBC Scotland understands that BMI was losing up to £1m a month on the Glasgow to Heathrow route.
Last week, it said no decision had been made about flights between the airports pending a review of "weaker routes".
In a statement, BMI said: "From 1 April 2011, the domestic passenger charge will increase from £13 to £20 per passenger, as part of a changed charging structure at London Heathrow.
"Additionally, from 1 April 2011 an annual regulator-approved increase will also be implemented, bringing the total charge to £22 per departing domestic passenger.
"The increase in charges will make the already loss-making route from London Heathrow to Glasgow unsustainable."
The airline said domestic passenger charges were now commensurate with those on an international flight to an EU destination.
'Unfair discrimination'
It said that this was "despite the fact that domestic passengers do not use the same facilities as international passengers, such as customs and immigration channels".
BMI said landing charges at London Heathrow for an A320 aircraft were also the same or higher than an A380.
It described this as "unfair discrimination against domestic and short-haul operators" and said the airports' operator BAA was "favouring long-haul carriers".
The BMI statement added: "In light of this, BMI has launched a complaint under section 41 of the Airports Act 1986 and has asked the Civil Aviation Authority to investigate BAA as it believes the airport operator is unreasonably discriminating against domestic passengers and domestic operators from London Heathrow."
BAA however rejected claims that it was discriminating against BMI and said the airline had made a commercial decision to axe a loss-making route.
In a statement, the airport operator said: "BMI's decision to reduce services from Glasgow to Heathrow has little to do with airport charges.
"BMI has taken a commercial decision to transfer slots from a loss-making domestic service to more profitable long-haul routes, in line with public statements about reducing domestic services made before our new charging structure was announced.
"It is unhelpful to lead Scottish travellers to believe this is about just one element of BMI's costs."
'Commercially sustainable'
BAA said Heathrow's new charging structure was "designed to help airlines operate successful networks".
It added: "BMI has not, so far, aligned its domestic services with the long-haul flights of its Frankfurt-based owner Lufthansa and other international Star Alliance partners based at Heathrow.
"When it does so, its domestic services will likely become more commercially sustainable than they are today."
News of BMI's decision brought a wave of reaction from political and business leaders in Scotland.
Secretary of State for Scotland Michael Moore described the route suspension as "disappointing" and said it had "not been taken lightly".
"In my discussions with the chief executive it has been clear that this commercial decision has been taken reluctantly, based on underlying issues on the route. The route does not appear to have been commercially viable for BMI for some time.
"In my discussions with BMI's Wolfgang Prock-Schauer he has understood my concerns about the importance of air links for Scottish cities, businesses and individuals.
"Mr Prock-Schauer has said that BMI will be able to look at the route again in the future and we all hope it will be possible to re-establish the flights."
Action needed
Scottish Labour's transport spokesman Charlie Gordon said he was "dismayed" by the decision.
"This will be bad news for business travellers to and from London and bad news for all travellers interlinking to long-haul flights at Heathrow," he said.
"It is deeply disappointing that despite the efforts of all those with a stake in Glasgow's continued success they (BMI and BAA) have failed to reach a compromise to their disagreement over the proposed increase in landing charges at Heathrow."
Conservative transport spokesman Jackson Carlaw said BAA at Heathrow should have reconsidered the timing of their new landing charges.
Glasgow Chamber of Commerce chief executive Stuart Patrick said action was needed to minimise the impact of BMI's decision.
"There are a number of areas politicians now must urgently look at," he said.
"These include the reintroduction of the 'route development fund' to support direct long-haul flights to the Americas and clarity on the UK government's position on the maintenance of short-haul flights to regional airports.
"We will be working with BAA to ensure 2011 is a year of growth for Glasgow Airport despite this decision."