Family killed in Glasgow flat fire named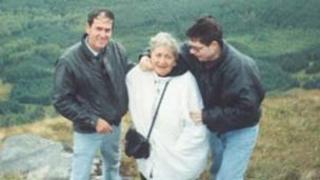 An elderly couple and their son who died in a fire at a block of flats in Glasgow have been named by police.
James Robertson, 71, his wife Mary, known as May, 73, and their son Paul, 37, died after their flat in Acre Road, Maryhill, caught fire on Friday night.
They were taken from the flat suffering from severe smoke inhalation but, despite first aid from firefighters, died on the way to hospital.
In a statement, relatives said: "We are deeply saddened by what has happened."
They added: "James, May and Paul will be sorely missed."
Firefighters said they believed the fire, which started in a bedroom at about 2340 GMT, was a "tragic accident" caused by a cigarette.
Earlier this month, Strathclyde Fire and Rescue's chief officer Brian Sweeney said a 10-day period over Christmas had seen an "unprecedented level of tragedy" with five deaths and hundreds of homes destroyed by fire.
He said firefighters had dealt with the highest number of incidents for 10 years with 68 injuries and 250 homes destroyed during the period.