Three people die in fire at Glasgow flats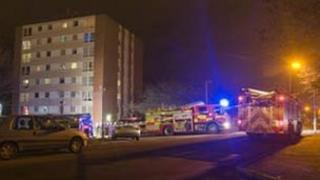 Three people have died in fire at a block of flats in the north of Glasgow.
Firefighters were called to the fifth-floor flat in Acre Road in the Maryhill area of the city at about 2340 GMT on Friday.
The three people - believed to be a couple and their adult son - were taken from the flat suffering from severe smoke inhalation.
They received first aid from firefighters but died on the way to hospital.
Firefighters said they believed the fire, which started in a bedroom, was a "tragic accident" caused by a cigarette.
Jim Doyles, head of operations at Strathclyde Fire and Rescue, said: "Three casualties were removed and the crews were attempting desperately to try and resuscitate them.
"Obviously investigations are still ongoing. There was a lot of smoke inside but to be honest, why they couldn't get out at this stage would be speculation."
He added: "We will wait on the full inquiry."
The latest incident follows a series of house fires in the Strathclyde area.
Earlier this month, Strathclyde Fire and Rescue's chief officer Brian Sweeney said a 10-day period over Christmas had seen an "unprecedented level of tragedy" with five deaths and hundreds of homes destroyed by fire.
He said firefighters had dealt with the highest number of incidents for 10 years with 68 injuries and 250 homes destroyed during the period.