Man jailed over Glasgow flat grenade siege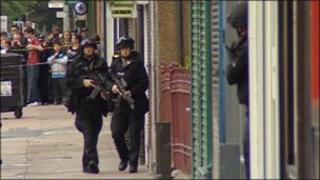 A man who sparked a 10-hour grenade siege in Glasgow's west end after a fight with his wife over a text message has been jailed for four years.
John McDermott, 22, who had a stash of flash grenades, barricaded himself inside his Partick flat with a three-year-old girl, in September last year.
Armed police and a bomb disposal squad were called to the property after the grenades were thrown from the window.
McDermott pleaded guilty to assaulting his wife and police officers.
He also admitted breaching the peace by throwing items out of the window on Dumbarton Road, shouting and swearing and holding a knife to his throat.
Wife assaulted
At an earlier hearing, Glasgow Sheriff Court heard how father-of-one McDermott and his wife had argued over a text message after he arrived home at about 0600 GMT on 10 September 2010.
He then punched his wife on the stomach, then kneed her on the leg.
She ran upstairs to a neighbour's house and explained what had happened.
McDermott later appeared at the flat door holding the three-year-old under his arm and with a knife at his own throat.
The court was told that McDermott opened the flat door to police at about 0700 GMT and threw a flash grenade which hit an officer on the chest.
Dumbarton Road was cordoned off, businesses were unable to open for the day and neighbouring houses were evacuated.
Police negotiators talked him into handing over the girl, who was crying hysterically.
Bomb disposal
McDermott followed police instructions and threw grenades out of the window.
The Army bomb disposal unit was called from Edinburgh and police negotiators tried to talk McDermott out of the flat.
He was eventually arrested 10 hours after the siege began.
Sentencing McDermott at Glasgow Sheriff Court, Sheriff Charles McFarlane QC told him that he had admitted very serious charges.
Sheriff McFarlane added: "Your actions that day resulted in a major incident in the west end of Glasgow which lasted 10 hours.
"The only appropriate sentence is one of imprisonment."