Gail Sheridan will not stand in Holyrood election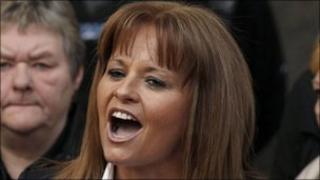 Gail Sheridan has confirmed she will not be standing for election to the Scottish Parliament in May's vote.
Mrs Sheridan said she was "flattered" to have been considered "good enough" to be a candidate for Solidarity.
But she said her husband's imprisonment for perjury meant her priority was in "caring for our beautiful daughter".
Her husband Tommy began a three-year prison term on Wednesday for lying during his successful defamation case against the News of the World in 2006.
He took the newspaper to court over claims the politician was an adulterer who had visited a swingers' club and was awarded £200,000.
Sheridan and his wife, both 46, were charged with perjury following a later police investigation.
Political split
Mrs Sheridan was acquitted but her husband was convicted last month and sentenced to three years in prison on Wednesday.
While Sheridan was awaiting sentence, it emerged that his wife was considering standing for Solidarity - the party he formed after an acrimonious split from the Scottish Socialist Party in 2006.
That brought a strong reaction from former Respect MP George Galloway - a friend and supporter of Sheridan during his court case - who launched his own candidacy.
He said he was "hurt" not to have been told directly by Sheridan that his wife may stand for Solidarity.
The prospect of her candidacy taking possible votes from Mr Galloway has now been removed.
In a statement issued by her lawyer, Amar Anwar, Mrs Sheridan said: "I am flattered by those Solidarity members and members of the public who considered me good enough to stand for the Scottish Parliament.
Privacy plea
"As a lifelong trade unionist and advocate of workers' rights I would have welcomed the challenge.
"However, given Tommy's imprisonment my priority is caring for our beautiful daughter. In the coming elections I will be supporting and voting for Solidarity and will be encouraging others to do likewise."
Mr Anwar added: "As Gail Sheridan's lawyer I can confirm that after several weeks of serious deliberation and following a meeting with her today that she will not accept the nomination to stand as a Solidarity candidate in May's Holyrood elections.
"Despite all the stories in the press, Gail had never made any final decision and her family has always come first. I would now ask that her and Gabrielle's privacy is respected."