SSP's Colin Fox reaches out to Solidarity supporters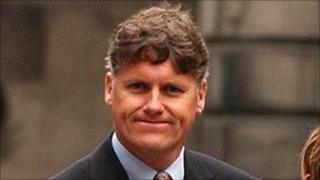 A senior Scottish Socialist Party figure has raised the prospect of reuniting with supporters of disgraced politician Tommy Sheridan.
Colin Fox told BBC Scotland he backed unity between the SSP and Sheridan's breakaway Solidarity movement.
But the former MSP warned that Sheridan's supporters would have to accept his jail term for perjury.
Former SSP leader Sheridan set up Solidarity in 2006 after announcing a split in the party.
At its height, the SSP was Scotland's fifth-largest party, with six MSPs.
But Sheridan's desire to sue the News of the World for defamation resulted in a bitter internal dispute.
Both parties have been out of parliament since the 2007 election.
Following Sheridan's three-year jail term for committing perjury in relation to the earlier case, Mr Fox told BBC Radio's Scotland at Ten programme: "I'm very much interested in seeing the left united together in principle.
"There is virtually nothing that distinguishes the Scottish Socialist Party and Solidarity other than this issue of Tommy Sheridan."
Picket lines
But SSP national spokesman Mr Fox warned the issue "demanded honesty", adding: "If people accept Tommy Sheridan lied, he sued a newspaper over stories he knew to be true, he conspired with others to tell lies and he vilified who dared stand up to him, then I think we can go forward."
Also speaking on the programme, Solidarity national secretary Graeme McIver said senior SSP figures had been "discredited in the eyes of active socialists and trade unionists across the UK".
But he added: "I know that on campaigns, on picket lines across Scotland, I'll be standing there with SSP members."