Inquiry team visit Colin McRae helicopter crash site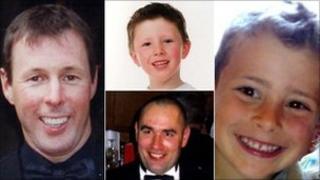 A sheriff and lawyers have visited woods in Lanarkshire where rally driver Colin McRae's helicopter crashed, killing four people.
The crash in September 2007 killed Mr McRae, his five-year-old son Johnny, six-year-old Ben Porcelli and family friend Graeme Duncan, 37.
The visit to the woods near Mr McRae's home in Lanark is part of a fatal accident inquiry into the tragedy.
The inquiry, at Lanark Sheriff Court, is expected to last several months.
The court party, who had swapped their wigs and gowns for outdoor clothing and walking boots, was driven around a number of sites where witnesses had seen Mr McRae's final flight.
Their last destination was the Mouse Water Valley, a thickly-wooded gorge next to the McRae family home, where the 39-year-old's Eurocopter Squirrel aircraft crashed.