New Scots Makar opens Robert Burns Birthplace Museum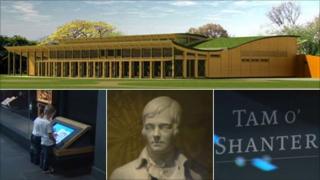 Scotland's new Makar, or national poet, has officially opened the Robert Burns Birthplace Museum.
Liz Lochhead joined First Minister Alex Salmond for the ceremony at the £21m facility in Alloway, Ayrshire.
The museum, which has been open to the public since 1 December, features more than 5,000 artefacts, including original manuscripts written by Burns.
The opening coincides with a Burns weekend in Alloway which comes to an end on Tuesday - Burns' birthday.
The museum replaces what was formerly the Burns National Heritage Park and brings together all of the Alloway sites, including the Burns Monument, Alloway Auld Kirk, Burns Cottage, an education pavilion and Auld Brig O'Doon.
Promoting poetry
In addition to Burns' memorabilia which has never been seen before, the facility also features commissioned works from leading Scottish artists including Kenny Hunter, Timorous Beasties and Sue Blackwell.
Robert Burns, who died in 1796, is widely regarded as the national poet of Scotland.
The position of Makar was created in 2004 to represent and promote Scots poetry.
Liz Lochhead was confirmed in the post on Wednesday following the death last year of the first Makar, Edwin Morgan.
Speaking at her first official engagement as Makar, Ms Lochhead said: "It is a huge pleasure to officially open the Robert Burns Birthplace Museum, which is such an asset to the further popular enjoyment of our so well-loved national poet.
"His work is, was, and ever shall be, the greatest monument to him, but his life of passion, pleasure, poverty and contradiction will never fail to fascinate, infuriate, challenge and engage with us, whether we're young or old, scholar or ordinary enthusiast, Scot or citizen of somewhere else."
Mr Salmond said the museum gave Scotland the opportunity to "celebrate the influence" of "an international cultural icon, loved the world over".
"This major tourist attraction will bring a wealth of economic and cultural benefits to South Ayrshire and Scotland and bring to life the work of Robert Burns for this and future generations," he said.
"The world renowned collection of important artefacts, including the Burns family bible, original manuscripts and a miniature volume of verse that travelled 5.7 million miles to space, brings to life the story of the national Bard using a variety of cutting edge techniques."
Nat Edwards, director of the Robert Burns Birthplace Museum, added: "It is fitting that a museum to mark the life and works of one of Scotland's most loved poets is opened by another.
"Having Liz Lochhead perform her first official duty as Makar makes this historic occasion even more memorable. Both this opening and her appointment are clear signals of the fantastic energy of Scottish poetry today."