Woman stabbed 'friend' to death in Blantyre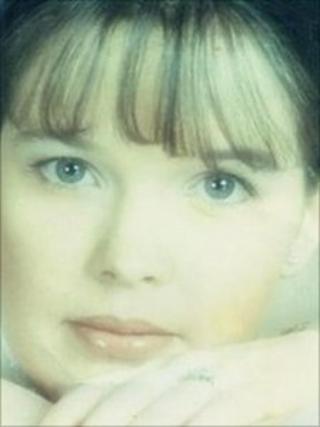 A woman has been convicted of killing a mother-of-four by stabbing her to death on the street near her home.
Charlene Wilson, 25, was found guilty of the culpable homicide of her "friend" Gail Russell on 12 June 2010.
A jury at the High Court in Glasgow cleared her of murdering Ms Russell at Small Crescent, Blantyre.
The court heard that Wilson, armed with a knife, went with Thomas Gibson and Aaron Black to the home Ms Russell, 26, shared with boyfriend Andy Carruthers.
They planned to confront Mr Carruthers, but Wilson stabbed Ms Russell through the chest.
Neighbours told the court they saw Wilson pull a knife from her waistband and stab Ms Russell, who was unarmed.
Ms Russell chased after Wilson for a few moments, but collapsed in the street.
A pathologist said the stab wound was 1cm (0.4in) from Ms Russell's heart. The knife sliced though a blood vessel and she bled to death.
Wilson told the court she did not intend to stab Ms Russell but lashed out because she thought she was going to be attacked.
She said Ms Russell, who had four young children and had only moved to the street in Blantyre a few months earlier, was a friend of hers, although they were not speaking at the time.
'Showing off'
She told the jury that Gibson and Black wanted to confront Mr Carruthers and she went along "to show off".
Wilson said they went to the door of Ms Russell's house where the door slammed shut on them.
She said: "I thought that was it. I was a I bit annoyed so I threw a toy pram."
Seconds later Ms Russell, her boyfriend Mr Carruthers and his sister Gillian Carruthers came running from the side of the house.
She added: "Andy Carruthers had a knife, Gillian Carruthers flung a bottle at me, which smashed against a lamp post.
"Gail Russell had a bottle which she flung and she was making gestures at her back as if she'd got a weapon.
"I was terrified, so I pulled out my knife and swung it towards her. I never meant to hurt her, she was my pal. I just meant to keep her away from me."
Giving evidence, Mr Carruthers denied he had any weapon that night.
Advocate depute John Scullion, defending, said Wilson had five previous convictions at summary level but had never served a custodial sentence.
Defending, Ian Duguid QC said Wilson had a bipolar condition.
Co-accused Gibson, 29, from Blantyre, and Black, 22, from Motherwell, admitted a breach of the peace in Small Crescent by brandishing a knife and a sword.
Judge Lord Brailsford deferred sentencing until next month.