Damien Green apologises over asylum seeker letter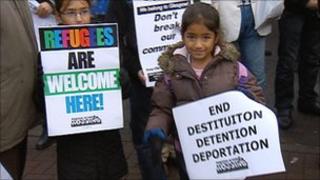 UK immigration minister Damien Green has again apologised for the "inappropriateness" of a letter sent to asylum seekers in Glasgow in November.
Mr Green said a letter from the UK Border Agency warning more than 1,000 people they might need to move house within days should not have been sent.
It stemmed from a dispute with Glasgow City Council over a contract to provide accommodation for asylum seekers.
Mr Green was giving evidence to the Commons Scottish Affairs Committee.
Hundreds of people protested in Glasgow after the UK Border Agency cancelled a contract with the city council to provide temporary housing for asylum seekers after they failed to agree on costs.
More than 600 families received letters warning them they could be re-homed, prompting the charity group, Positive Action in Housing (PAiH), to describe the move as "utterly shameful".
On Wednesday, the Commons Scottish Affairs Committee heard testy exchanges between the committee chair, Ian Davidson, and Mr Green, who conceded the letter had caused distress.
However, the same asylum seekers are due to be sent a further letter, as accommodation contracts with new providers are due to be entered into by March.
The local authority currently provides accommodation to more than 1,000 asylum seekers.