Life terms for teenagers who kicked man to death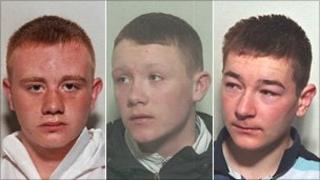 Three teenagers who kicked a stranger to death while high on drink and drugs have been given life sentences.
Dillon Cherrie, 16, Dean Logan - then only 15 - and Stewart Patterson, then 19, attacked Nachhatar Singh Bola in Renfrew in July 2010.
The 36-year-old, who was visiting Scotland from India, died from his injuries five weeks later.
The three were handed minimum sentences ranging from nine years to 10-and-a-half years.
Cherrie, from Renfrew, was ordered to serve at least nine years before he can apply for parole - an additional two months were added because he was on bail at the time.
The court heard that he was facing 19 pending cases at the time of the attack.
Logan, now 16, from Port Glasgow, Inverclyde, was also ordered to serve a minimum of nine years.
'Mindless attack'
Patterson, now 20, also from Renfrew, was told he cannot apply for parole until he has served 10-and-a-half years.
An extra four-and-a-half months were added to his sentence because he had been released on bail the day before the attack after appearing in court on a weapons charge.
Judge Lady Dorrian told them the sentences would have been longer if they had not admitted the murder.
Jailing them, she said: "The three of you engaged in a vicious, sustained, mindless and unprovoked attack on a passing stranger.
"The violence was considerable and ended in the death of Mr Bola with tragic consequences for his family.
"Such behaviour is, frankly, incomprehensible."
The court heard how the three met up in the Moorpark area of Renfrew during the afternoon of 2 July last year where they began drinking and taking drugs.
Later that night, while they were making their way to the town's Thomson Street, they saw Mr Bola passing with a carry-out meal and began to chase him for no reason.
The victim fell to the ground a short distance from where he was staying in Thomson Street and was repeatedly kicked and stamped on his head and body.
Mr Bola was taken to Glasgow's Southern General Hospital where he died from pneumonia and multiple organ failure, which doctors said had been brought on by the head injuries he suffered.
The court was told that because of visa difficulties, his wife Baljinder Kaur, 36, arrived in Scotland too late to see him before he died.
A tip-off later took police to Cherrie's address where they found him stripped to his boxer shorts. Patterson and Logan were upstairs.
Clothing found in the house was later found to be stained with Mr Bola's blood. Footprints on the dead man's jumper matched trainers worn by Patterson and Cherrie
It was also discovered that after the fatal attack, Logan had sent text messages saying: "We all battered a guy and he is in hospital. I know I did it, but I regret it now."
A letter was found in Patterson's home saying they had all been as bad as each other.
As she left the High Court in Edinburgh, the victim's widow, Baljinder Kaur, spoke to reporters through an interpreter.
"Those boys are probably sitting back thinking about their sentences and the rest of their lives," she said.
"They probably have no understanding how they have destroyed my life and my family's lives."
The couple had a daughter, Manreet, aged four, and son Saranpreet, aged eight.