Teenagers face Paisley break-in murder bid charge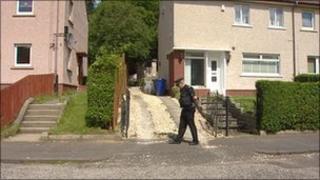 Two teenagers are to stand trial accused of trying to kill a martial arts expert after allegedly breaking into his Renfrewshire home.
Ian Michie, 17, and 18-year-old Daryl Dock appeared at the High Court in Glasgow for a preliminary hearing.
They are accused of attempted murder of Johannes Alder at his home in Paisley on 23 July last year.
They are also alleged to have assaulted his wife Elizabeth to her permanent impairment. They deny the charges.
Both accused will go on trial at the High Court in Paisley on 8 April.
They are charged with breaking into the property and stealing a number of items including knives, rings, a wallet, an MP3 player and a purse.
They are then said to have acted in an "intimidating manner" towards the five-time Sombo wrestling champion and pushed him to the ground.
Weapons claim
It is claimed Mr Alder was then repeatedly struck on the head and body with knives or similar instruments.
Mrs Alder is said to have been assaulted by being struck on the arm.
Mr Michie and Mr Dock also face an allegation of attempting to defeat the ends of justice.
It is claimed they tried to dispose of weapons used in the attacks down a drain.
They finally face two other charges related to the same day.
They are accused of stealing a mobile phone in Paisley. They are also alleged to have forced open a car in the town and taken a sat-nav and compact discs.
Mr Michie and Mr Dock deny all charges against them.