'Gerbil' murder suspect released on bail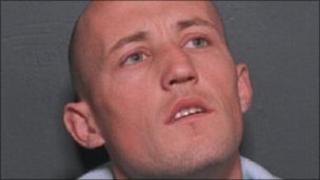 A man accused of murdering Glasgow gangland figure Kevin "The Gerbil" Carroll has been released on bail.
Ross Monaghan is accused of repeatedly shooting and killing Mr Carroll in the Asda car park in Glasgow's Robroyston area on 13 January last year.
At the High Court in Glasgow, the Crown said it was not ready to proceed to trial as new information had come to the attention of prosecutors.
Mr Monaghan, 29, was granted bail and the case was continued for eight weeks.
The bail was granted with special conditions that he reports daily to a police station, the police retain his passport, and that he does not apply for another.
Mr Monaghan had been on remand in Glasgow's Barlinnie prison since first appearing in court last August.
Seven charges
Judge Lady Smith granted him bail after he appeared for a second preliminary hearing.
During the proceedings, prosecutor Dorothy Bain QC told the the court: "The accused appears on indictment facing a total of seven charges, one of which is murder.
"As a result of inquiries carried out recently, further information has come to the attention of the prosecuting authorities."
The QC said a trial date could not be set as "further time" was needed for work to be carried out.
Mr Monaghan's counsel Tony Graham then requested the accused be freed on bail meantime.
Lady Smith allowed bail subject to special conditions and adjourned the hearing until March.
Mr Monaghan is charged that while masked and acting with others, he repeatedly discharged loaded handguns at 29-year-old Mr Carroll and shot him on the head and body.
He also faces further charges in relation to the incident while in the company of other people.
Mr Monaghan is alleged to have attempted to defeat the ends of justice by disposing of a revolver, pistol and ammunition within undergrowth in Coatbridge and Airdrie, North Lanarkshire.
It is also claimed a car bearing false number plates was set on fire.
Mr Monaghan is further accused of a number of firearms charges.
It is alleged he possessed a revolver and a self-loading pistol without the required certificate and having the prohibited weapons without the authority of the Secretary of State or Scottish ministers.
He also faces similar allegations in relation to the possession of bullets.
Mr Monaghan is accused of the reset of a car or an alternative accusation of travelling in the vehicle knowing it had been taken without consent.
It is alleged these offences occurred while he was on bail from the sheriff courts in Glasgow, Lanark and Airdrie.
Mr Monaghan denies all the charges.