Bluetooth bid to curb Inverclyde knife crime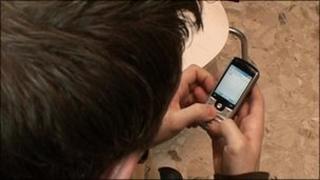 Young people's mobile phones are being targeted with safety messages as part of new tactics to cut knife crime in the west of Scotland.
The police-led project in Inverclyde will see bluetooth technology used to beam text onto phones at key locations.
If the scheme is successful it could be extended to other areas.
Knife crime in Inverclyde dropped by 35% after a recent police safety campaign was run in tandem with the targeting of known offenders.
Ch Insp Graeme MacDairmid, of Strathclyde Police, said the "No Knives Better Lives" initiative had "played an integral part" in cutting knife crime in Inverclyde.
He added: "Educating and changing the attitudes of how the young feel about knives is paramount in achieving any real long term success.
"Running in tandem with this successful education programme, my officers are focussing on targeting both known knife carriers, and hot spot areas where knife crime is prevalent.
"Never before have police officers in Inverclyde carried out so many searches for weapons, yet at the same time found so few."
It is hoped that the use of bluetooth technology to pass on anti-knife messages to young people in Inverclyde will build on the success of the "No Knives Better Lives" initiative.
Announcing the pilot project, Justice Secretary Kenny McAskill, said it was important to find "new ways" of reaching young people.
"You'd be hard pushed to find a young person who doesn't own a mobile phone and that is a huge audience we can potentially reach through these tactics," he said.
"The 'No Knives, Better Lives' initiative has already been extended to cover other areas using the successful experiences from Inverclyde as a blueprint for action.
"These latest tactics give us the opportunity to test something new and if successful, the use of the technology could be rolled out to other areas across Scotland."