Blantyre man stabbed grandmother 16 times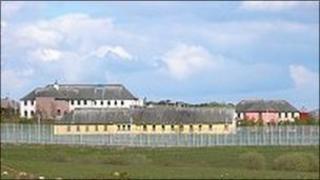 A 35-year-old man has admitted killing a grandmother by stabbing her 16 times outside her home in South Lanarkshire.
Walter Weir attacked family friend Margaret Burke, 60, in Blantyre in July 2010 as she attempted to calm him down.
The High Court in Glasgow heard how Weir was likely to be suffering from a psychotic illness at the time and had reportedly been hearing voices.
Judge Lord Brailsford ordered him to be sent to the State Hospital and deferred sentence until April.
Weir was originally charged with murder, but the Crown accepted his plea to a reduced charge of culpable homicide on the grounds of diminished responsibility.
The court was told that in the days before the killing Weir had been hearing voices and believed that everyone in Blantyre was out to get him.
Samurai sword
Weir's mother and sister were so concerned about him that hours before the attack they phoned an ambulance and police, and had also tried to get him to see his GP.
When police and paramedics attended at the family home he appeared calm and they were unable to detain Weir in hospital and he refused to go voluntarily.
Hours later he took a Samurai sword and a folding butterfly knife from the house and went wandering around the streets of Blantyre in the early hours of the morning.
He eventually ended up in Parkville Drive, after knocking on three houses on the way there, bundling a female dog walker to the ground and patting her down for guns and knives.
Pyschotic illness
In Parkhill Drive at about 0400 BST, Mrs Burke - who had known Weir for almost 30 years - went out and tried to calm him down.
As they walked towards her home Weir turned on her and repeatedly stabbed her with the knife.
The court heard Mrs Burke died from a wound which pierced her heart.
Weir was arrested by police later that morning. He initially refused to hand over the knife and police used CS gas to restrain him.
The court was told that psychiatrists who examined Weir said he is suffering from a psychotic illness which is likely to be paranoid schizophrenia.
Judge Lord Brailsford ordered him to be held in the State Hospital on an interim compulsion order until sentencing in April.