School lunches 'reduce truancy', pilot project finds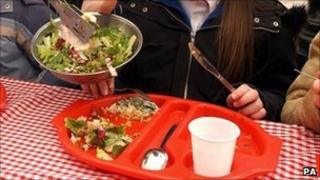 Keeping children in school at lunchtime encourages them to eat more healthily and reduces accidents and truancy, according to the findings of a pilot project.
Pupils at eight Glasgow schools were kept in the grounds and offered activities alongside healthy food.
As a result, more children ate school meals and staff reported less truancy and improved safety.
The pilot has now been rolled out to a further seven schools.
The pilot scheme, organised by Glasgow City Council, the Scottish Centre for Social Research and the Glasgow Centre for Population Health, was carried out among S1 pupils between August 2009 and June last year.
It was also found that pupils enjoyed the lunchtime activities and said there was less pressure to go out even if they did not want to.
The study found there was also less bullying and teasing and staff reported reduced lateness for class.