George Galloway irked by Gail Sheridan Holyrood bid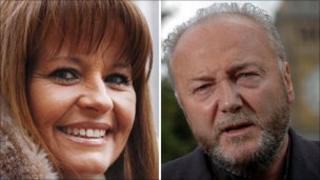 The former Respect MP George Galloway has said he is "surprised and hurt" that Gail Sheridan is to stand for election to the Scottish Parliament.
The wife of disgraced politician Tommy Sheridan, who is due to be sentenced for perjury, plans to stand for her husband's Solidarity party in May.
Mr Galloway said Sheridan had proposed that his wife should stand as a number two to him on the Glasgow list.
Her decision means that she will now compete with Mr Galloway for votes.
Speaking to BBC Scotland, Mr Galloway said he was "a bit surprised" to read about Mrs Sheridan's candidacy.
He said: "Only a couple of days ago Tommy Sheridan was proposing to me that Gail Sheridan should run as the number two on my list in Glasgow - my campaign's launched on Sunday.
"I expressed quite serious misgivings about it but I hadn't actually formally closed any discussion about it, so, it's all a bit of a surprise."
Mr Galloway said he had been against the proposal for a number of reasons.
"First of all I'm against the separation of the country and Tommy's group is for independence," he said.
"I'm a Labour man and they're more of a far-left crew, but most importantly if Gail Sheridan runs as my number two my election campaign will become a referendum about Tommy Sheridan, about his trials and tribulations - and I really don't want that."
Mr Galloway conceded that Mrs Sheridan standing for Solidarity could be problematic for him.
'Crowded field'
"Obviously it makes it a more crowded field, there's going to be a lot of people in the 'others' category," he said.
"I'm just hoping that my long record in Glasgow as a Member of Parliament, my reputation as a campaigner, my name - which is relatively well-known in Glasgow - will lift me above the rest, but we'll wait and see."
The former Respect MP said he was upset by the decision to place Mrs Sheridan at the top of Solidarity's Glasgow list.
"I'm, to be honest, a little bit hurt and disappointed by it," he said.
"Tommy Sheridan didn't have a better friend in politics than me, and for 30 years nearly.
"To do something like this without even a text message to say he was about to do it, it's a bit dispiriting."
However, he said he still believed Sheridan was innocent and would continue to support him.
"I have stood by Tommy through all those trials and tribulations in my newspaper columns, in my speeches and in person - so I'm not turning my back on Tommy," he said.
"I think he's been badly dealt with.
"But clearly a vote for Gail Sheridan would be vote for Tommy Sheridan - or not - and that's another reason why I probably think it's unwise."
Tommy Sheridan, 46, formed Solidarity in 2006 after splitting from the Scottish Socialist Party (SSP) following his defamation victory against the News of the World which claimed he was an adulterer who had visited a swingers' club.
After he won £200,000 in damages from the newspaper, he and his wife were charged with perjury.
Gail Sheridan was acquitted of all charges but her husband was convicted last month following a 12-week trial at the High Court in Glasgow.
He is due to be sentenced on 26 January and it is expected that the 46-year-old former air hostess will formally declare her candidacy afterwards.
Election battles
The party has yet to score a major electoral breakthrough in Scotland.
Tommy Sheridan failed to be re-elected in the 2007 Holyrood election as top of Solidarity's list nominees for Glasgow.
The party also stood a candidate in by-elections in Glasgow East and Glenrothes in 2008, and Mr Sheridan himself stood again in the Glasgow North East by-election in 2009, winning 3.9% of the vote.
Mrs Sheridan was an activist in the SSP from 1999 to 2006, and has stood for office before, contesting the Glasgow Cardonald seat in a council election in 2003.
She increased the SSP's vote, but lost out to Labour.
At the height of its electoral success, the SSP had six MSPs, including Tommy Sheridan.