Mumps outbreak hits young people in Oban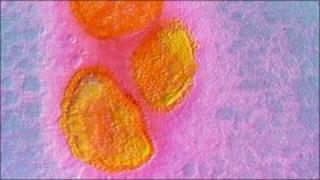 Young people in Oban are being advised to ensure they are vaccinated against mumps after an outbreak in the Scottish west coast town.
NHS Highland said about 50 cases had been identified, mainly among teenagers and those in their early 20s.
It is believed returning students and increased social events over the festive period may have contributed to the spread of the virus.
Mumps is spread through saliva and is transmitted by coughs and sneezes
Symptoms include swelling on the angle of the jaw on one or both sides of the face.
Often there are several days of earlier symptoms, which could include fever, headache, tiredness, muscle aches and loss of appetite.
Doctors have said that teenagers in Oban who have not had all their MMR jabs should make sure they are up to date with vaccination.