Colin McRae helicopter 'close to trees'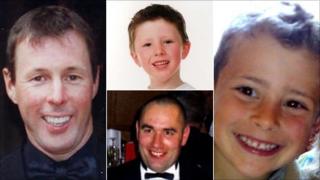 A helicopter piloted by Colin McRae which crashed killing everyone on board was flying "close" to a line of trees, a fatal accident inquiry has heard.
Anne Cooper told the inquiry at Lanark Sheriff Court that she feared there was "something wrong" when the aircraft appeared near her home.
The helicopter crashed near Mr McRae's home in Lanark in September 2007.
The 39-year-old died along with his five-year-old son Johnny, Ben Porcelli, six, and 37-year-old Graeme Duncan.
Mrs Cooper, 57, from Crossford, South Lanarkshire, told the inquiry she was sitting in her conservatory with her mother when they heard the aircraft overhead.
"A helicopter came over the house very suddenly," she said, describing the route as "very unusual".
She said: "No helicopter has ever flown over that bit of the garden before."
The witness said the aircraft was flying "so low" and she wondered whether it would manage to clear some nearby trees.
"I did have the feeling of 'oh my gosh, that is awfully close to the trees'," she said.
Mrs Cooper said it was the noise of the helicopter which initially attracted her attention and made her look up.
"I'd never heard a noise quite like it. It was very, very loud," she said.
"The way I describe it was if you put a washing machine on and you put something in it like coins or keys."
She added: "Both of us thought it sounded bad and both of us said 'oh my gosh, there's something wrong'."
The inquiry into the crash, which is expected to last several months, entered its fourth day on Thursday at Lanark Sheriff Court.