Intruder set Cumbernauld householder alight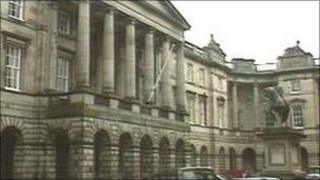 A drunken intruder who poured lighter fluid over his victim and set him alight has been jailed for 45 months.
William Young, 20, walked into 55-year-old Francis Anderson's home in Cumbernauld, North Lanarkshire, in May last year and claimed he lived there.
He admitted assaulting Mr Anderson to his severe injury after being asked to leave several times.
At the High Court in Edinburgh, Young was ordered to be supervised for a further 12 months after his release.
The court heard how Young, from Cumbernauld, arrived at Mr Anderson's home at about midnight.
Mr Anderson asked what he was doing in his house, but Young claimed it was his home and refused to leave before helping himself to a can of beer.
Reduced charge
When he was later again asked to leave he became aggressive and poured the lighter fluid over his victim and sparked the lighter.
Mr Anderson fled screaming from his own home with his head and face alight.
He managed to beat out the flames with his hands before raising the alarm at a neighbour's home.
Young was originally charged with attempted murder but his guilty plea was accepted to a reduced charge of assaulting Mr Anderson to his severe injury by pouring accelerant on him and igniting a lighter as a result of which he was set on fire.
Jailing Young, judge Lord Pentland told him: "This was a nasty and dangerous offence and in the commission of it you showed, in my view, a deplorable level of drunken recklessness."
The judge told Young that he had built up "a significant number of convictions", adding: "It is clear you present a high risk of further offending and causing harm."