Glasgow prosecutors drop Marks and Spencer fire charges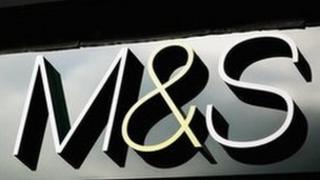 Prosecutors have dropped a number of fire safety charges brought against Marks and Spencer over a blaze at one of its stores near Glasgow.
The retailer was alleged to have failed to evacuate its Braehead branch and allowed customers to enter after fire broke out in a stockroom in March 2008.
The case was due to call for trial at Glasgow Sheriff Court but was dropped after new evidence came to light.
The Crown Office said it was no longer in the public interest to prosecute.
The shop also faced a charge of failing to install a fire alarm in the stockroom and various other charges under the Fire (Scotland) Act relating to risk assessment and emergency planning.
Review cases
A Crown Office spokesperson said: "The procurator fiscal at Glasgow determined there was sufficient evidence to raise proceedings against Marks and Spencer Plc following an incident on 5 March 2008.
"As with any case, the Crown has a continuing duty to keep cases under review.
"The procurator fiscal has now reviewed this case in light of further evidence, including expert reports, and concluded that it is no longer in the public interest to prosecute.
"There will be no further proceedings and the case is now closed."