Amazon to create 950 jobs at Scottish centres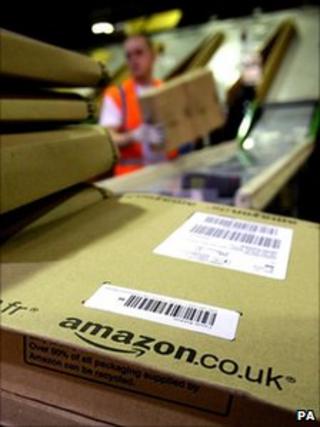 The online retail giant Amazon is to create 950 new jobs in Scotland.
The majority of the posts - 750 - will be created at a newly-built plant distribution centre in Dunfermline, Fife, off the M90 motorway.
That facility will replace a smaller plant at Glenrothes, also in Fife. Existing staff will transfer.
Another 200 jobs will be added at the firm's warehouse in Gourock, Inverclyde, with possibly up to a 1,500 temporary jobs at times of peak demand.
The new one million sq ft distribution centre in Dunfermline - about the size of 14 football pitches - will be Amazon's biggest in the UK.
It will be built on development land alongside the M90, near to the junction with the A92.
All permanent staff at Amazon's Glenrothes centre will transfer to the new site.
The building there, which Amazon currently leases, was bought last year by Fife Council which plans to use it as a depot hub.
Allan Lyall, vice president of European operations at Amazon, said: "Amazon is delighted that its biggest UK fulfilment centre is to be built in Dunfermline.
"It is a great location and it has been Amazon's priority to secure a new site as close to the current Glenrothes fulfilment centre as possible in order to preserve and transfer the entire skilled workforce with all its experience and Amazon knowledge.
"We look forward to the site opening towards the end of this year and would like to thank Scottish Enterprise for its commitment and cooperation throughout this project."
The headline jobs figure - 950 - was confirmed earlier at Holyrood by First Minister Alex Salmond.
He said: "Amazon has established itself as one of the world's leading online retailers and I am delighted with its decision to expand its Scottish operations and to create 950 jobs.
"Amazon's plan to create a purpose-built centre in Dunfermline will create over 750 jobs and deliver a very significant boost to the local economy.
"I also welcome Amazon's plans to build on their success in Gourock and to create 200 new posts."
The Amazon expansion in Dunfermline is being supported by almost £9m of public money.
This includes a grant of £6.3m to help with construction costs, £2m in regional selective assistance, and £500,000 for training.
Established in 1998, Amazon offers a wide variety of products over the internet, including books, movies, music, PC and video games, software and electronics.
The firm also operates a a development centre in South Queensferry.