Celtic Connections starts with torchlight procession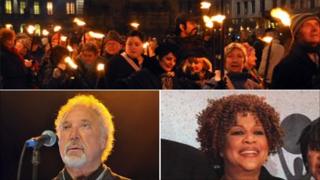 Scotland's biggest winter music festival - Celtic Connections - got under way with a torchlight procession through Glasgow.
Pipe bands led a march of about 130 people from George Square to the main venue at the Royal Concert Hall.
About 1,500 artists are expected to perform in more than 300 events across 14 venues between 13 and 30 January.
Sir Tom Jones, Mavis Staples, the Blind Boys of Alabama and Craig Armstrong are among those taking part.
Celtic Connections is entering its 18th year in 2011.
Acclaimed album
The winter festival has grown dramatically since it first began as a way of filling the Royal Concert Hall's January schedule.
Welsh music legend Sir Tom Jones will perform his latest album, Praise and Blame, in a one-off show at the venue on 17 January.
Jones' acclaimed 39th studio album is a collection of American gospel, blues, traditional and country songs.
The festival also features a 70th birthday tribute to Bob Dylan, who has long acknowledged his debt to Scottish folk music.
The American singer-songwriter has been invited to attend the event at the Royal Concert Hall on 24 January.
Gavin Moir, 63, a teacher from East Kilbride, was taking part in the torchlight parade for the first time this year.
He said: "I'm very excited about taking part. It's a great way to start. I've been to Celtic Connections over a number a years. It's always a joy."
'Post-Yuletide gloom'
The Lord Provost of Glasgow Bob Winter led the procession.
He said: "It's very, very important to have this festival at this time of year.
"There is a kind of post-Yuletide gloom which hits our economy and sometimes affects the spirits of our people. This festival really comes in and engages thousands of people in the city."
Donald Shaw, artistic director of Celtic Connections, said: "Essentially it's a traditional, Celtic roots festival and originally the festival, the backbone of it, was just traditional and Gaelic music.
"Now it's developed into a festival of all strands - folk, jazz, world, gospel, indie. We pretty much cover everything, but we're still very much based on a roots music idea."
He said the introduction of a gospel strand was based on the "very strong links" between Western Isles Gaelic singing and religious singing from the Hebrides, which in turn is connected to black gospel music from the southern US.
The opening concert for the festival was also staged at the Glasgow Royal Concert Hall on Thursday evening.