Colin McRae's helicopter 'flew towards policeman'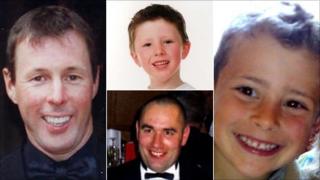 An inquiry into an accident which killed former world rally champion Colin McRae and three others has heard his helicopter flew towards an off-duty policeman and his family.
Graeme Henderson said it veered to the left and he realised something was wrong when "everything went quiet".
He was giving evidence at a fatal accident inquiry into the 2007 crash.
Mr McRae, his five-year-old son, the boy's six-year-old friend and Graeme Duncan all died in the crash in Lanark.
McRae, 39, was piloting the Eurocopter Squirrel when it came down near his house on 15 September.
Mr Henderson told the inquiry he was in Bellfield Park, near Lanark, with his wife and children at about 1500 BST that day when he spotted the helicopter.
"We were just playing with the kids, letting them run about," he said.
"I heard a noise, looked up, and there was a helicopter flying directly towards us.
"As I was watching it, it veered sharply to the left."
The witness described how the helicopter "banked" and he was then able to see the underside of the aircraft.
He told the court: "It started to go down behind the trees.
"It was still going down at that angle."
He added: "Everything went quiet after the helicopter went behind the trees.
"It was only a few minutes later, five to 10 minutes later, when police cars started arriving, I thought there was something wrong."
Mr Henderson told the court his immediate thought when he saw the aircraft was that the pilot was "showing off a bit", and that the move seemed unusual.
However, during cross-questioning by Paul McBride QC, representing the McRae family, the witness said he did not think he was showing off and that it was "the wrong choice" of words to use.