Deal to keep Skykon Campbeltown turbine factory open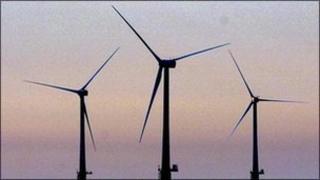 A deal has been struck to keep open an Argyll-based factory which makes towers for windfarms while efforts continue to safeguard its future.
The future of the plant at Machrihanish has been in doubt since Danish parent company, Skykon, filed for bankruptcy.
This forced the Campbeltown operation into administration last week with staff told not to turn up for work.
Administrators Ernst and Young have now agreed a deal with engineering firm Siemens to resume production.
Siemens will provide funding for an outstanding order of 30 wind turbine towers for a windfarm near Abington in South Lanarkshire.
Staff at the company were informed of the breakthrough at a meeting with the administrators on Wednesday morning.
All 130 employees will return to work on Thursday and wage arrears will be met.
Andrew Davison, joint administrator, said: "We were mindful of the uncertainty facing staff at the Campbeltown facility and are therefore pleased to have concluded this arrangement in such a short timescale."
The administrators are continuing to work through expressions of interest in the site and are currently providing further information to interested parties.
Mr Davison added: "We are encouraged by this latest development, though the desirable outcome remains the successful sale of the facility."
The Skykon plant on the site of the former RAF Machrihanish base is an important part of the area's economy and one of its biggest private sector employers.
Skykon took over the operation two years ago after the previous owners - another Danish company Vestas - decided to close it.
First Minister Alex Salmond visited the site to announce it had been saved. He welcomed news that the factory was being kept open amid current difficulties.
'Breakthrough secured'
He said: "The administrators are to be congratulated on securing this breakthrough which enables the workforce to continue and which confirms backpay.
"Of course, the next task is to establish long-term investment to secure the future of the site.
"Ministers, Highlands & Islands Enterprise and Scottish Development International have been working hard behind the scenes with Ernst & Young and Siemens to help bring about today's positive development.
"We remain firmly focused on working with the administrators and interested parties to help secure a long-term future for the Machrihanish site."
The area's MSP Jim Mather said he was pleased for the workers.
He added: "We have all been highly aware that this was a difficult Christmas for them, however, it is now clear that everyone has made that feeling a key motivator to get this result."
The Scottish government hopes to see Scotland develop its potential to become a world leader in renewable energy and operations like the one at Machrihanish are an important part of this ambition.
Windfarms or tidal energy projects do not normally sustain many jobs directly. But there are other ways in which the Scottish economy can benefit - for instance, high end research and development jobs or manufacturing sites like the one at Machrihanish.
Work has been under way around Campbeltown to help make the most of the potential of the operation - for instance, widening roads to make it easier to transport the completed turbine towers.
Skykon at Machrihanish had a healthy order book but was undermined by serious financial problems at its Danish parent company.
A recent analysis by the GMB union claimed there were 13 unemployed people for every job vacancy in the Campbeltown area.
However, others take a more optimistic view of the area's economic outlook. Tesco intends to build a massive new store on the site of the existing Campbeltown Creamery which, in turn, is due to be replaced by a state-of-the-art facility.
A local business intends to run a small-scale ferry service to Northern Ireland in the summer after years of effort to restore a publicly-subsidised car ferry service failed.