Bullets in post target Celtic footballer Paddy McCourt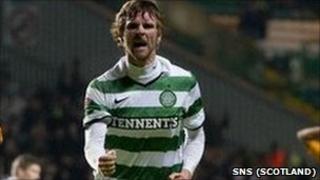 Bullets have been sent through the post to Celtic player Paddy McCourt - days after similar packages were sent to his manager and a team mate.
The envelope addressed to McCourt, a winger from Northern Ireland, was found by staff at a Royal Mail sorting office in the east end of Glasgow.
Similar packages were sent to Celtic manager Neil Lennon and player Niall McGinn.
All three are from Northern Ireland and believed to be Catholics.
The three packages are thought to have been posted in Northern Ireland with Lennon's and McGinn's being intercepted in County Antrim.
A Strathclyde Police spokeswoman said: "We can confirm that we are currently investigating a suspicious package discovered at a Royal Mail sorting office in Cubie Street in Glasgow on Tuesday 11 January.
A Royal Mail spokeswoman said: "We can confirm that a suspect package was found in one of our Glasgow offices and was handed straight to the police."
The Royal Mail called police to a sorting office in Northern Ireland earlier this week after staff raised concerns about two other packages.
Officers have asked anyone with information to come forward.
Celtic have traditionally been associated with Catholic supporters and players and sectarian threats have been made in the past to people at the club.
One included a threat from a paramilitary group to former club captain and Northern Ireland international Lennon. That resulted in him withdrawing from Northern Ireland's game against Cyprus in 2002.
'Brought to justice'
Football agent Gerry Carlile, who represents McCourt and McGinn, said: "I have spoken to both Paddy and Niall, and whilst both are disappointed and shocked, they are determined this won't derail their efforts on the pitch.
"I hope the Police Service of Northern Ireland is investigating thoroughly and that those responsible are caught and brought to justice swiftly."
Following news of the third package being found, spokesman for the Catholic Church in Scotland, Peter Kearney, said: "It's very sad when people's beliefs, and when intolerant beliefs, are taken to the stage they incite and threaten the use of violence.
"And obviously on a very serious level, when things like the sending of bullets and ammunition come into play."