Boy had no permission to be on Colin McRae helicopter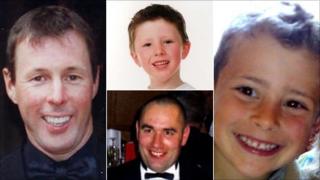 A boy who died in a helicopter piloted by rally driver Colin McRae did not have permission to be there, a fatal accident inquiry (FAI) has heard.
The parents of Ben Porcelli, six, said Mr McRae did not "seek permission" to take their son in the aircraft.
Mr McRae, 39, was at the controls of the helicopter when it crashed near his home in Lanark in September 2007.
He died with his five-year-old son, Johnny, his school friend Ben, and 37-year-old Graeme Duncan.
The FAI into the crash, which is expected to last several months, got under way at Lanark Sheriff Court on Monday.
Statements were read out from Karen and Mark Porcelli, the parents of Ben, who said they did not give Mr McRae permission to take their son in the helicopter.
They said they were family friends of the rally champion and his wife, and their sons attended the same primary one class at school.
The boys would go to play at each other's homes, they said, and Mrs Porcelli said she dropped Ben off on the afternoon of 15 September 2007.
She said: "There had been no discussion of Ben going in the helicopter that day or on any other occasion."
Mr Porcelli said: "At no point did Colin McRae seek permission to take Ben in the helicopter."
A number of booklets containing photographs of the crash site were lodged with the court and Sheriff Nikola Stewart was shown video footage taken from the air by Strathclyde Police.
The film showed aircraft wreckage and smoke rising from a wooded area.
Last year, a report by the Air Accidents Investigation Branch (AAIB) found no technical reason for the crash, but said a technical fault could not be ruled out.
The official report, published in February, also found that Mr McRae did not have a valid flying licence at the time of the crash.
It said Mr McRae was "undertaking a demanding manoeuvre" before the Eurocopter Squirrel aircraft hit trees and crashed.
The aircraft came down just 150 yards from the landing strip at the McRae family's home.
The findings revealed that passenger Graeme Duncan had recorded video footage on a camcorder during the helicopter's flight prior to the crash.
This was recovered from the wreckage and viewed by investigators to help them piece together the moments before impact.
The AAIB report said the mood on the helicopter was jovial and the passengers could be heard shouting and laughing, "enjoying the experience".
Following that report, Ben Porcelli's parents accused Mr McRae of taking "unnecessary risks" and said the crash was "completely avoidable".