Glasgow Airport set for £11.2m makeover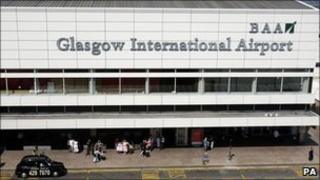 Glasgow Airport is set for a major makeover, with £11.2m of upgrades planned for this year.
Its owners BAA are spending £5.9m on the terminal building, including replacement of the original heating system.
Following a deal with an American company, more restaurants and a bar will be added.
A four-year project to improve the main aircraft taxi link to the runway, costing £2m, will also begin.
The airport has been hard hit by falling passenger numbers, but managing director Amanda McMillan said she was confident there would be a return to growth this year.
"This investment will ensure that Glasgow Airport continues to provide high quality facilities for its passengers and deliver a smooth, efficient operation," she said.
"Throughout the recession, we have continued to invest for the long term to ensure that Glasgow Airport is able to compete in an increasingly challenging market.
"After a difficult period for the UK aviation industry, I am confident that we will see a return to growth in 2011. "
She added: "The investment we are making this year will allow us to deliver an improved service to our passengers and airline partners, and make Glasgow Airport a more attractive choice for travellers."