Skykon's Campbeltown turbine factory in administration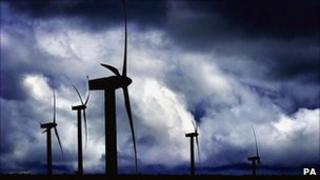 A company in Argyll which manufactures towers for wind farms has been placed in administration.
The parent company of Skykon, which has a plant in Machrihanish, Campbeltown, said it was suspending payments to its creditors because it was cash-strapped.
About 130 people work at the plant, which is one of Kintyre's biggest private sector employers.
Highlands and Islands Enterprise (HIE) and the Scottish government said they would work to try to save the jobs.
A government spokesman said: "Scottish Development International and HIE are working with the administrators and their various stakeholders to achieve a positive outcome, and every effort is being made to secure the viability of the asset and long term, low-carbon jobs for the area."
A threat has been hanging over the facility at the former RAF base since October.
Colin Dempster and Andrew Davison of Ernst and Young have been appointed administrators.
Mr Davison said: "We are currently reviewing the facility's financial position and order book with a view to assessing its immediate trading prospects.
"Some initial expressions of interest have been made and all options will be explored to find a future for the site."
The past few years have been difficult for workers at the Machrihanish site.
The facility was originally set up and run by a Danish company Vestas, but in 2008 they decided to close it down.
The Scottish government and others worked hard to find a buyer for the facility and it was taken over by another Danish firm, Skykon, in the spring of 2009.
First Minister Alex Salmond visited the site to announce the deal.
Skykon had spoken optimistically of eventually having up to 450 staff on the site.
'Great asset'
Douglas Cowan, Argyll and the Islands area manager for Highlands and Islands Enterprise, said: "HIE and our partners have been working hard to avoid this outcome for Campbeltown.
"We will now do all we can to assist the administrator to identify and negotiate with a new operator.
"Investment in this site over the past 10 years has created a great asset for Argyll and I have no doubt it will attract international interest from potential tenants."
He said Skykon's decision prolonged a period of uncertainty for the workforce.
"Administration is always a challenge, but we believe it will pave the way to capitalise on this asset and secure these important jobs for Argyll in the long-term," he added.
"Over the coming days and weeks, HIE will work closely with the business, the administrator and colleagues in the Scottish government and partner organisations as we seek to achieve a positive outcome."
Kenny Jordan, regional officer with the union, Unite, said Skycon going into administration was "tragic news".
"Unite will be doing everything it can to support this valuable asset and the jobs that depend on it," he said.
"Machrihanish in Scotland is already suffering as a unemployment black spot.
"Unite will meet with the administrators and the workforce early next week to offer whatever assistance the union can to maintain the facility."