Moderator's ring stolen in house robbery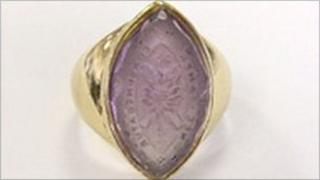 The gold ring of office worn by the Moderator of the General Assembly of the Church of Scotland has been stolen.
The ring was taken during a break-in at the home of the Right Reverend John Christie in Helensburgh.
The robbery took place between 2300 GMT on Wednesday and 0400 GMT on Friday.
The ring has a large amethyst stone and bears the church's Latin motto, "nec tamen consumebatur", meaning, "yet it was not consumed" - an allusion to the biblical story of the burning bush.
Christmas presents and a wallet were also stolen in the robbery.
It is believed that the thief or thieves entered the house through the front door.
Det Insp Ross McCallum, of Strathclyde Police, said: "Thefts from your home are difficult to deal with any time of year, but especially at Christmas.
"As well as a wallet and Christmas presents for friends and family being taken, the Church of Scotland Moderatorial ring was also stolen.
"It is described as gold with a large amethyst stone and engraved with the words Church of Scotland.
"Whilst, it has a monetary value, it is more importantly, of significant historical importance to the church."
The ring was previously reported lost in 2006 before being found in Glasgow's St Enoch Square.
The Church of Scotland is to make an appeal for the ring's return.