Strathclyde Police swamped during big freeze chaos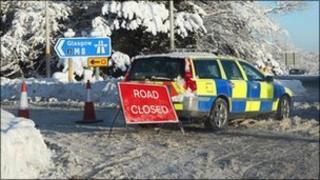 Scotland's largest police force is bringing in extra officers to deal with an unprecedented rise in calls for help following widespread travel chaos.
Strathclyde Police said it received more than 11,200 calls on Monday compared to the normal 4,000 enquiries.
These came as heavy snow and freezing temperatures saw hundreds of drivers stranded on impassable roads.
A combined police, fire and ambulance unit is co-ordinating responses as fallout from Monday's chaos continues.
A spokeswoman for Strathclyde Police said the force had advised people not to travel as soon as it became apparent that there was going to be serious issues with regard to congestion.
She added: "This weather and the resultant traffic disruption is unprecedented, however, most Strathclyde Police officers made it to their work and indeed had to work on - with some working 24 hour shifts.
"Despite the treacherous road conditions, officers are working around-the-clock to free up the road networks and make sure that the people who have been either stuck in their cars or who had to abandon their vehicles are safe and accounted for."
The spokeswoman said it was difficult to underplay "the sheer scale of the problem the emergency services and local authorities have had to deal with".
"From our own side, we estimate overnight that we had over 1,000 vehicles either abandoned or with people having to spend the night in them," she said.
"Roads have been gridlocked with people leaving their cars on hills, at the side of the road or indeed in the middle of some roads.
"This is causing serious problems for other motorists, especially the emergency vehicles."
The spokeswoman said that a "special events room", staffed with police, fire and ambulance personnel had been set up at lunchtime on Monday and was monitoring the situation and co-ordinating resources.
This, she said, would remain open until the situation had been resolved.